Barn Night
WIHS Barn Night 2013
Presented by Dover Saddlery

More than 1,200 horse enthusiasts representing 30 barn groups from Maryland, Virginia, the District of Columbia and North Carolina attended Barn Night 2013, presented by Dover Saddlery. Barn Night is a favorite WIHS tradition for local young riders and horse enthusiasts who attend in groups and have a chance to enter contests, win big prizes and enjoy a fun, horse-filled evening! It's an outing everyone will enjoy, from the most junior horse lover to anyone who has ever known the joy of spending time with horses.

Shetland Pony Steeplechase, Gambler's Choice Costume Class and lots more!
Activities
Barn Night activities began on the concourse at 6:00 pm with a Stablemates painting party hosted by Breyer Animal Creations. The first 100 kids to arrive received a special prize, also courtesy of Breyer. Hundred of youngsters took part in the WIHS Barn Night Scavenger Hunt for a chance to win an Essex Classics show shirt. Evening events inlcuded the first-ever WIHS Shetland Pony Steeplechase, presented by Charles Owen, the exciting and hilarious Gambler's Choice Show Jumping Costume competition, a t-shirt toss, plus an autograph session with top riders!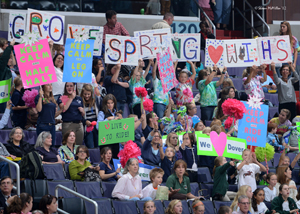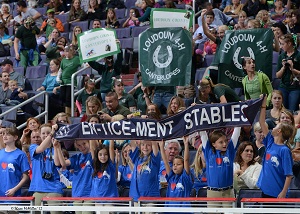 Registered barns entered contests for a chance to win great prizes including a clinic with international three-day eventing sensation Will Coleman presented by Cavalor, a golf cart refurbished in your group's colors, courtesy of United Metro Golf Carts, and $5,000 in gift certificates from Dover Saddlery!
2013 Contest Winners - stay tuned for a list of the winners!

Largest Group (Overall, MD, VA and DC/Other)
Best Group Spirit
Best Group Banner
Best Group Video: NFF Stables, Poolsesville, MD
Have you met Flat Major!
Throughout the year, Major, the WIHS mascot, sent around a "Flat Major" to visit with Barn Night groups and track their road to WIHS. Take a look at the wonderful places he visited on the WIHS Barn Night 2013 event page on Facebook.
Many thanks to our 2013 Barn Night Partners!
C&A Sportswear

And with the generous support of
The Petersen Family Foundation!