Junior Committee & Youth Ambassador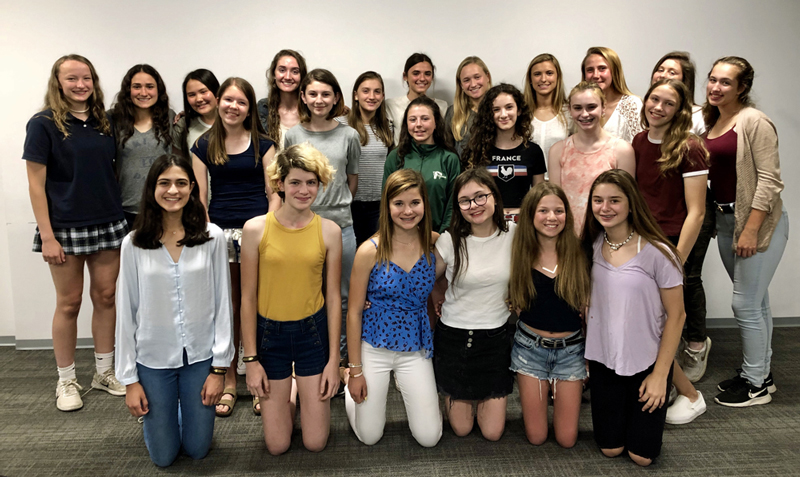 This innovative program, now in its 10th year, is an opportunity for Washington-area teens to be a part of the inner workings of the Washington International Horse Show.
Each year through an application process, approximately 30 teens from public, charter and private schools in Maryland, Virginia and Washington, D.C. selected to participate on the Junior Committee. During the summer and fall, working with WIHS staff, committee members contribute to planning the show, learn new skills, and work on youth and community activities.

During show week, committee members serve as tour guides and press escorts, manage the Snapchat takeover, and share equestrian knowledge to help educate show visitors about horses and horse sport. Junior Committee members also are involved in equine-related volunteer activities, culminating in the popular WIHS Kids' Day .

The WIHS Youth Ambassador holds a leadership role as chair of the Junior Committee and represents the show's youth perspective to the media. Those wishing to be considered for the 2019 WIHS Youth Ambassador will complete an additional application to showcase strengths in leadership and management.
2020 Application(s) deadline: Monday, April 1, 2020. Those wishing to apply for the position as Youth Ambassador must complete a second application (included in application packet).
Applicants must be students between the ages of 14 and 18 enrolled at local Washington, D.C., Virginia and Maryland -area schools.




A Word from Signature Academics
"We are delighted to return for the third year as sponsor of the WIHS Junior Committee," said Wendy Salomon, Executive Director of Signature Academics, a leading provider of educational services for student athletes, including one-to-one fully accredited school in Wellington, Fla. "The WIHS Junior Committee members are an exceptional group of teens, and it's our pleasure to support their efforts in leveraging a love of horses into fun and innovative programs, like Barn Night and Kids' Day, for show spectators and the local community."
Since 2014, Salomon, an avid equestrian herself, and her Signature team have been tutoring equestrian student-athletes year-round in Wellington, seasonally in Ocala, Fla., and at major national horse shows, including Washington. "We specialize in supporting equestrian student-athletes who place a high value on education," said Salomon. "Our goal is to provide peace of mind to students and families that academic achievement remains the number one priority, even in the face of non-stop training, traveling, and competition."
During show week, Signature Academics team members can be found working with students in the Signature Academics study center, located on the competition level at WIHS.