The Young Nelson Society of Washington (YNS) is a young professionals group comprised of equestrian enthusiasts, interested in supporting the Washington International Horse Show (WIHS), a 501(c)(3) nonprofit organization, and its charity partners.

CALENDAR OF EVENTS:
Mission
The Young Nelson Society of Washington hopes to further community development by raising awareness of WIHS and its charity partners in fun, energetic settings.
About
Named in honor of George Washington's war horse, Nelson, one of America's most valiant equine heroes, the Young Nelson Society of Washington celebrates the bravery, inspiration, partnership and joy a horse lends its rider (whether it be on the battle field, the show ring or in a therapeutic capacity).

Membership & Benefits
Through social fundraising events throughout the year, YNS supports WIHS, one of the top equestrian events in North America, and its charity partners, including: Tragedy Assistance Program for Survivors (TAPS), Capital Breast Care Center and United States Equestrian Team (USET) Foundation. All of these charities embody the courage, bravery and trust needed to achieve independence and overcome adversity, like the partnership between George Washington and Nelson.
YNS events are a great networking experience for equestrian enthusiasts in and around Washington,D.C., Maryland and Virginia. YNS members are invited to various happy hours, parties, races, steeplechases and other exclusive experiences to mix and mingle with new and familiar friends!
Membership Application:
Young Nelson Society Membership Application
Membership Fee: $75 (credit card or check accepted)
Remember, annual memberships expire August 31st. Renew in August for another year of fun and philanthropy with YNS & WIHS! Rolling applications accepted throughout the year.
If you're interested in joining YNS, please submit a membership application to:
Washington International Horse Show
Attn: YNS
1300 L St. NW, Suite 201
Washington, DC 20009

You can also email the application to yns@wihs.org or fax to 202-525-3686.

Why the name "Young Nelson"?
It is rumored that during the Revolutionary War, George Washington's favored mount was nicknamed "Old Nelson". Most colonial artwork depicts Washington on his other mount, Blueskin, who was considered to be the more handsome of his horses due to his striking grey color. Washington, however, favored Nelson, a gallant chestnut undaunted by cannon fire and the sounds of battle. Nelson's bravery carried Washington through much of the Revolutionary War and ultimately to the surrender of Lord Cornwallis and the British Army in 1781 in Yorktown, Virginia.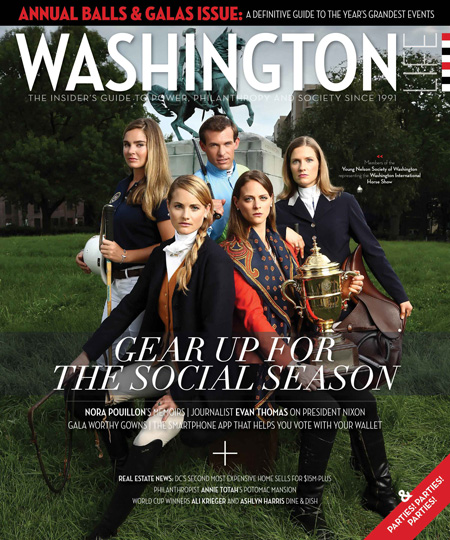 YNS 2018-19 Co-Chairs: Austin Cagley, Nara de Sa Guimaraes (Co-Founder) and Kate McCleary

Questions? Please email yns@wihs.org.
Check us out on Instagram and Facebook!