THE WIHS HONOR AND SERVICE AWARD
Presented by EQUUS Foundation
Nominations for the WIHS Honor and Service Award are closed!
Check back in early October to learn about the 2019 winner!
See 2016-2018 nominees here

The WIHS Honor and Service Award recognizes a horse, individual or organization
that best demonstrates the values of honor and service.
The 2019 award recipient will be recognized during a presentation at center ring with representatives of WIHS and EQUUS Foundation on Friday, October 25 during the annual WIHS Military Night. The recipient will receive a special prize and will have the opportunity to select an equine charity on the Equine Welfare Network of EQUUS Foundation to receive a $1,500 grant from the EQUUS Foundation.
The WIHS Honor and Service Award was created in 2013 to honor the Caisson Platoon's Klinger, a special horse who has touched the lives of many through his life of service with the 3rd U.S. Infantry Regiment (The Old Guard) Caisson Platoon. Klinger has served as the official escort to the President of the United States, and led the Presidential Inaugural Parade. The EQUUS Foundation and USEF inducted Klinger into the Horse Stars Hall of Fame for his service.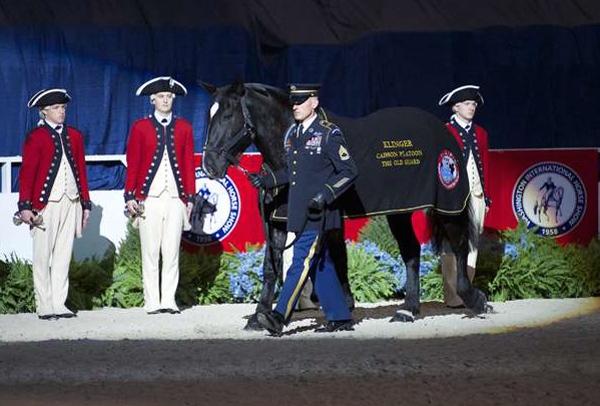 Previous Winners of the WIHS Honor and Service Award
2018: Big D & Sergeant Russell Robar
Nominated by: Emma Suarez-Murias
Related Organization: The First Mile Stable Charitable Foundation, LLC
Website: https://www.firstmilestable.org/meet-the-unit/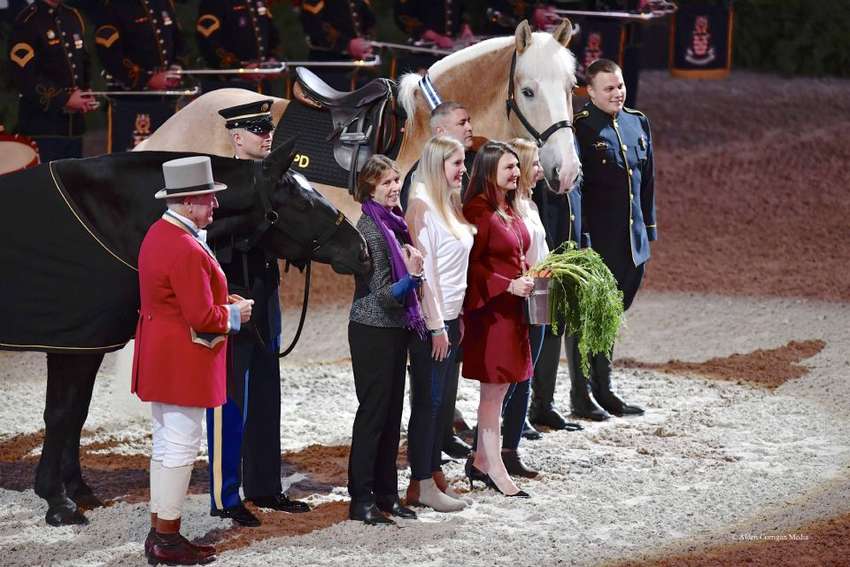 Photo by Alden Corrigan
Big D "Dino", a 16-year-old palomino draft cross, and Sergeant Robar, leader of the Baltimore Police Mounted Unit, have been honored for their partnership as the winners of the 2018 Klinger Award. The pair has been together since 2016 when Robar joined the mounted police unit. They have served at more than 350 community, educational, and public safety events, and exemplify the values of honor and service as embodied by Klinger everyday, whether patrolling the streets or working with local youth.
Dino and Sergeant Robar accepted a grant for The First Mile Stable Charitable Funds on Friday, October 26, 2018. The grant will be utilized to construct an equestrian facility on the property of the B&O Railroad Museum for the use of the Baltimore Police Mounted Unit. The interactive learning site will provide visitors with an immersive educational experience in order to build a positive interaction between the community and Baltimore City Police Officers-- both two and four-legged.
2017: Admiral
Nominated By: Katie Fallon
Related Organization: Bridle Paths Therapeutic Riding
Website: http://www.bridlepathsva.org
Admiral, the mainstay of equine-assisted activities and therapies programs at Bridle Paths in Leesburg, Va. and the 2017 Klinger Award winner, serves with honor in all facets of the program. This gentle giant is a 12-year-old Percheron-Thoroughbred cross gelding standing 17.3-hands high. He carries therapeutic riding clients with care and dignity, enabling child and adult riders alike to reach new heights, both literally and figuratively.
Equine-assisted learning clients practice clear, consistent communication and quiet leadership in working with Admiral. He demonstrates sensitivity, kindness, and even humor, in challenging clients to transform struggles into triumphs, cultivating resilience along the way.
His strength, leadership, and benevolence in the herd are powerful examples for each person with whom he works. Admiral helps clients whose trust and boundaries have been destroyed by trauma to rebuild relationships based on respect, acceptance, and understanding.
"Perhaps nowhere does Admiral shine more than in his work with veterans, service members, and their families," said Kathleen Fallon, President of Bridle Paths. "In both mounted and unmounted work, he inspires those who serve to connect with honesty and authenticity, and to lead with clarity, consistency and integrity. Through his work with the Bridle Paths program, Admiral builds relationships in which clients can be genuine and sincere, think clearly about their challenges, and achieve growth, learning, and healing."
2016: Maryland Horse Discovery Center Network
Nominated By: Ross Peddicord
Related Organization: Maryland Horse Industry Board
Website: Maryland Horse Discovery Center Network
Where do complete newcomers go to learn about horses in a safe, friendly and knowledgeable environment? That's a question the Maryland Horse Industry Board receives — a lot. As a result, a couple of years ago the Horse Board sent out a call to its nearly 800 licensed riding schools and boarding stables asking who would be interested in volunteering to become a certified Horse Discovery Center. These barns and stables stepped up, happy to welcome the general public into the horse world with open arms, and hearts.
A total of 35 stables in 15 Maryland counties, many of them already doing this type of work, answered the call and are now certified and serving as horse discovery centers. They have participated in a statewide Maryland horse scavenger hunt, where the winner visited 33 of 35 locations. They have given demonstrations and presented interactive displays at the Maryland State Fair's special Horse Land exhibit, which drew over 30,000 visitors this year. They have also written a school horse curriculum for Grades 4-8 in conjunction with the Maryland Agricultural Education Foundation and the Maryland State Department of Education that they plan to implement this coming year.
The Horse Discovery Centers early on adopted the Rotary Club motto "Service Above Self." In addition to helping perpetuate the future of the horse industry, they provide the spark that can ignite a lifelong interest in horses that brings folks closer to nature and a healthy, more active lifestyle.
2015: Andy
Nominated By: Mary Jo Beckman
Related Organization: Loudoun Therapeutic Riding Center
Website: http://www.ltrf.org/
Andy is the embodiment of service and honor when in the presence of adults and children with emotional, physical or cognitive challenges. He does not put a hoof wrong in a lesson or healing session with a participant, especially veterans. He is completely trustworthy, a steady presence, and serves with equal talent in multiple disciplines, including therapeutic riding, hippotherapy, equine facilitated learning, trauma recovery, and Equine Gestalt Coaching Method.
He adjusts his behavior depending on the setting, the client, and the therapeutic modality, and excels in all of them to make each session with him very special. He tunes into the needs of each participant with uncanny perception.
When engaged in his work, he partners with humans and honors them all. Andy serves by choice, with complete presence and attention to his riders and non-riders. For that reason, his service is all the more beautiful - a true gift to all those who work with him and benefit from his work.
2014: Lelac Almagor (& the KIPP DC Riding Team)
KIPP builds a partnership among parents, students, and teachers that puts learning first through their work in underserved communities. The KIPP DC Riding Team encourages independence, creative problem-solving, compassion, and teamwork through hands-on experience with horse care, grooming, and equitation. The students' experience has deepened their connection to school, their empathy for others, and their commitment to their own futures.
2013: Klinger, himself!
To nominate a special horse, individual or organization for this award, please complete and return your nomination form to info@wihs.org or mail to:
Washington International Horse Show
Attention: WIHS Honor and Service Award
1300 L St, NW Suite 201
Washington, DC 20004
For more information, please contact 202-525-3679 or info@wihs.org.