WASHINGTON, Oct. 26--The 60th Washington International Horse Show (WIHS) continued on Friday, October 26, with some of its most exciting competition yet, featuring the $50,000 International Jumper Speed Final, won by Georgina Bloomberg of New York, NY, on Paola 233. Reaching great heights with victory in the $25,000 Land Rover Puissance were Aaron Vale of Williston, FL, and Finou 4. The classes were part of a full schedule of exciting competition and entertaining exhibitions during Military Night, presented by Caterpillar, Inc.
The $25,000 Land Rover Puissance is one of the most popular classes at WIHS to attend, and Friday night's feature class didn't disappoint. Aaron Vale and Finou 4, owned by Thinks Like A Horse, jumped to a height of 6'11 ½" to capture victory for the third year in a row.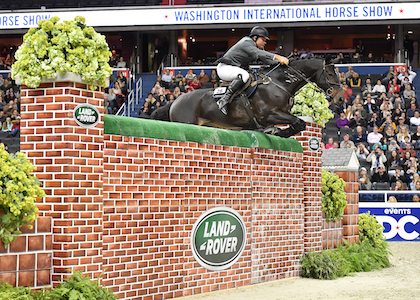 With a small field in the class, it came down to two very game riders that kept going over five rounds of competition. The wall started at 5'9" and was raised to 6'2", 6'6", 6'8 ½", and finally to 6'11 ½". Vale and Finou 4 stayed clear, while Andy Kocher and Blaze of Glory II, owned by Erica Hatfield, made it to the final round before knocking blocks off the top of the wall to finish in second place.
"I was just hoping somebody could hang in there a while, so we could get a decent class for the crowd," said Vale. "It was great. Andy's horse jumped it well and hung in there until the last round. It made a really good class and worked out the way that I wanted. I got a little competition, but I still got the blue!"
This is Vale's fifth win in the puissance class at WIHS, with previous wins coming in 1996 with Big Joe, in 1998 on Happyness, and now three consecutive years with Finou 4, who seems to have a certain something that makes him successful over the big wall – despite blindness in his left eye.
"He's got a lot of ability," said Vale of the 12-year-old Hanoverian gelding by For Pleasure. "He's very limber, plus he's got a lot of power, so it just seems to be easy for him. I think they could keep raising it, and I'd keep riding him to it."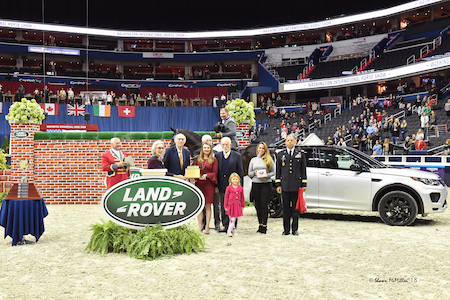 With their three wins in a row, Vale and Finou 4 have retired the Congressman's Challenge Trophy, donated by the Late Honorable Rogers C.B. Morton and the Late Honorable F. Robert Watkins, which is presented to the winning owner, Thinks Like A Horse.
"Ever since I was a kid, the puissance was a class I was interested in," said Vale, who rode in his first puissance at the age of 13. "I've always had a love for the class. It's about the only one left in the country, so it's special to come do it, and they always get a great crowd. It's always a fun night - especially when you have a horse that's pretty good at it. I've always ridden in the class, even if I didn't have a horse that was good at the job. I always threw myself over and tried to bring the horse with me. At this point, it's kind of nice to have a horse that's good at it."
As the winning horse, Finou 4 was presented with the Sweet 'N Low Trophy, donated by Mr. and Mrs. Donald G. Tober, who were at Capital One Arena to present the trophy. Vale was presented with the Armed Forces Cup.
Georgina Bloomberg Bests $50,000 International Jumper Speed Final
Riding over a faults-converted speed course designed by Olaf Petersen Jr. of Germany, Georgina Bloomberg and Paola 233, an 11-year-old Westphalian mare by Pontifex owned by Gotham Enterprizes LLC sped to victory in the $50,000 International Jumper Speed Final. The handy grey mare and Bloomberg finished clear in 52.90 seconds, edging out McLain Ward (USA) on Walstib Stables LLC's Queen Jane, who recorded a time of 53.15 seconds.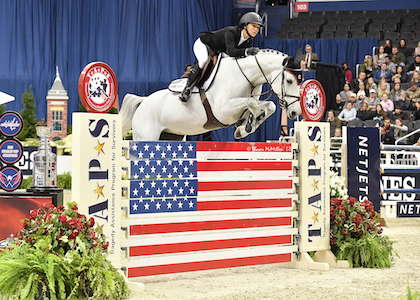 Third place went to last night's winner, 17-year-old Brian Moggre (USA), this time riding MTM Vivre le Reve, owned by Major Wager LLC, in 53.39 seconds. Erynn Ballard (CAN) and Catoki's Son Z, owned by Ilan Ferder & Tal Milstein, were fourth with a time of 53.52 seconds. Aaron Vale (USA) and Sleepy P Ranch LLC's Major were fifth in 54.66 seconds.
Bloomberg used Paola's natural ability to rise to the top of the class.
"She has a good enough stride, but she doesn't need to leave out strides. She's really quick in the turns, and she's very quick in the air," said Bloomberg. "Given the option, I always play it safe, and I add a stride because I know I can be quicker other places. Really any of the other options of leaving out strides I didn't love for her. I felt like I could just be quicker by turning and using her natural speed."
With a light competition schedule since the Hampton Classic Horse Show in late August, Bloomberg aimed Paola for WIHS.
"We brought her here with these two [speed] classes at WIHS in mind. This was my goal for her," said Bloomberg of the speed final. "I'm a little bit rusty with her, and that showed a little bit last night. I wasn't really happy with the way I rode. I felt like I sort of needed a class to get with her again. It was nice to be able to go in there, get out of her way, and not make any mistakes."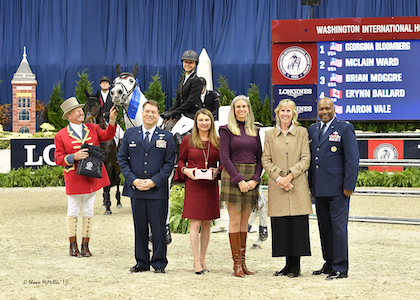 Bloomberg has competed at WIHS since the pony hunters and consistently ever since through the junior hunters, amateur jumpers, and international open jumper division. But consistent success at WIHS has eluded her.
"Ever since I was a pony kid, I've struggled to have wins here at Washington," she admitted. "I've never had the best luck here. All through my junior career, it was just the one show I didn't ever conquer. I had a little bit of luck when I was an amateur, and then it sort of evened out a little bit.
"It's one of those shows that I always enjoy coming to," she continued. "I love the city; I love the hotel; I love the horse show; I love being in the middle of a city and having a crowd that doesn't usually get to come to showjumping. But personally for me, it's one of those horse shows that I always leave a little bit disappointed, so it's really nice to come and get a victory."
For her victory, Bloomberg was presented with the General Dwight D. Eisenhower Memorial Perpetual Trophy, donated by the late Arthur J. Morris.
Ashley Vogel and Legacy Win Grand Junior Hunter Championship
Ashley Vogel of Mequon, WI, rode Legacy to the 2018 Grand Junior Hunter Championship and the Best Child Rider on a Horse title on Friday.
Vogel and her 10-year-old bay Warmblood gelding came into the day with two wins over fences in the Small Junior 16-17 Hunter division, and the pair topped off their successful week with a sixth place under saddle and a second place in the Small Junior 16-17 Hunter Stake to take the division championship, and ultimately the grand championship.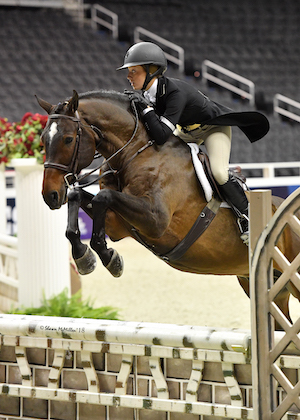 "It's pretty incredible," said Vogel, 17, who also competed Legacy at WIHS in 2017. "I wasn't expecting it at all, so it was a really nice surprise. This is my favorite horse show, and I was hoping for some good rounds – the same as last year. We had some good ribbons last year but not like this. It's pretty incredible. I'm still in awe."
With her two wins from Thursday, Vogel knew she had a good shot at the championship title, but she put the thought out of her mind to instead focus on having a solid and enjoyable round on Friday.
"Everyone kept coming up to me like, 'You have a really good shot at this,'" said Vogel, who trains with Maria Rasmussen and Jeff Wirthman. "But I was really trying hard to not crack under pressure. My trainer said, 'Just go have fun with it.' That's exactly what I did; everything worked out in our favor."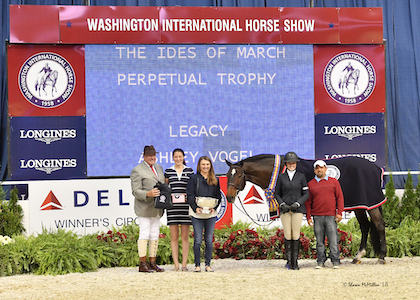 For the Grand Junior Hunter Championship, Vogel was presented with the Ides of March Perpetual Trophy, donated by Linda Lee and Lee Reynolds. For the Best Child Rider on a Horse title, sponsored by Gotham North, she received the DiVecchia Perpetual Trophy, donated by Mr. & Mrs. Frederick DiVecchia, after being selected by the judges as the rider who demonstrated the highest quality in horsemanship and sportsmanship, combined with good appearance and courtesy.
The reserve championship in the Small Junior 16-17 Hunters went to Emma Kurtz of Hudson, OH, and A Million Reasons, owned by Dr. Betsee Parker.
In the Large Junior 16-17 Hunters, the championship and the Chance Step Perpetual Trophy, donated by Brooke Carmichael McMurray-Fowler and Pam Carmichael Keenan, were presented to Ava Stearns of Chillmark, MA, and Cartello Z. The pair claimed two wins and a fourth place over fences for the top honor. The reserve championship was awarded to Chloe White of Berwyn, PA, riding Tztargazer, owned by Steve Schaefer.
For the second year in a row, the Small Junior 15 & Under Hunter division championship, sponsored by the Wasserman Foundation, was awarded to Stella Wasserman of Beverly Hills, CA, and Boss, owned by Laura Wasserman. This year, the pair picked up wins in the under saddle and the stake class, as well as a second place in the handy class, to take the championship.
Finishing in reserve were Mimi Gochman of Palm Beach, FL, and Evermore, owned by Gochman Sport Horse LLC.
In the Large Junior 15 & Under Hunters, it was Augusta Iwasaki of Calabasas, CA, who claimed the championship for the second year in a row. In 2017, Iwasaki rode Small Affair to the championship, and this year it was Small Occasion, owned by Iwasaki & Reilly, who earned the tricolor. The duo picked up a first, second, and third over fences and a third under saddle on their way to the championship win. The reserve championship went to Stella Wasserman of Beverly Hills, CA, and Skyhawk, owned by Laura Wasserman.
The Lindsay Maxwell Charitable Fund WIHS Equitation Finals also kicked off on Friday, and with the win in the Hunter Phase, Elli Yeager currently sits atop the leaderboard with a score of 92.50 heading into Saturday's jumper phase and top 10 work-off.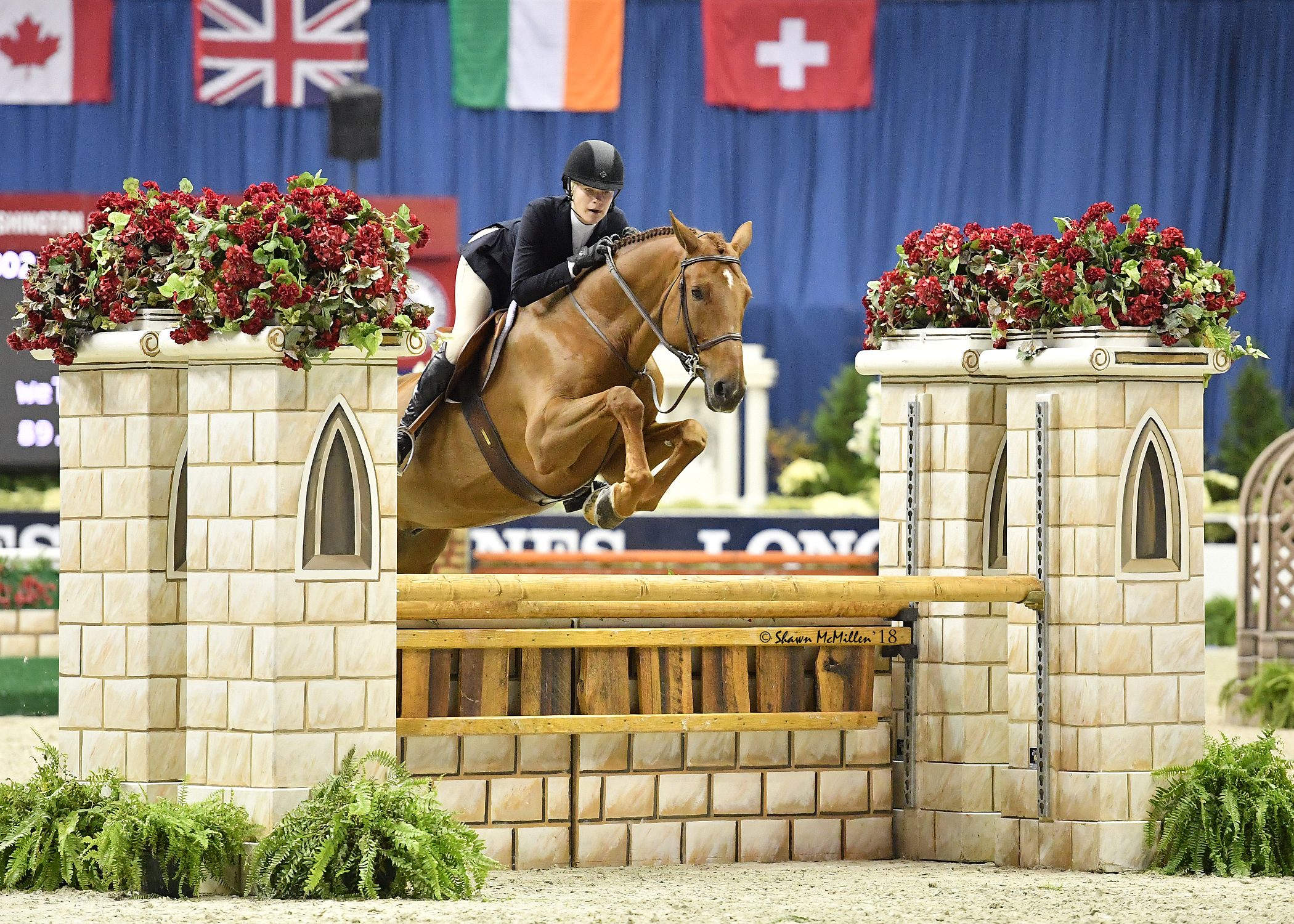 Competition at the 60th anniversary WIHS continues on Saturday beginning at 7 a.m. with pony hunters, followed by Saturday's highly-anticipated feature events including the Lindsay Maxwell Charitable Fund WIHS Equitation Finals – Jumper Phase beginning at 3:30 p.m., the WIHS Equitation Finals – Work-Off at 6:45 p.m., and the $135,000 Longines FEI Jumping World Cup Washington, presented by Events DC, kicking off at 9 p.m.