WASHINGTON, Oct. 24--Jumper riders took their turn in Capital One Arena during the second day of competition at the 60th Anniversary Washington International Horse Show (WIHS) on Wednesday, October 24. WIHS continues through Sunday, October 28, with coveted hunter, jumper, and equitation competition in the heart of Washington D.C.
Eliza Kimball Claims $10,000 WIHS Children's Jumper Championship, presented by The McCaulley Family
Eliza Kimball of New York, NY, had never competed at WIHS today, but her mount is no stranger to success in the city. Available Ohio, a 16-year-old Selle Français gelding by Flipper d'Elle that Kimball leases from owner Carly Hoft, won the WIHS Children's Jumper Championship in 2017 with Hoft in the irons before carrying Kimball to her debut win this year.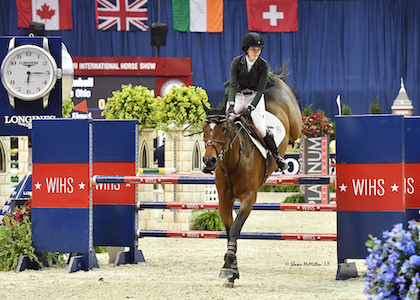 Available Ohio topped a competitive jump-off field of 19 horses by crossing the timers in 30.719 seconds over a course designed by Olaf Petersen Jr. of Germany. Kimball was just fractions ahead of second-place finisher Erin Floyd of Austin, TX, who stopped the clock at 30.932 seconds riding Russell, owned by Floyd Sport Horses, LLC. Emily Aitken of Bedford, NY, took third on Zabelle S in 31.266 seconds for owner Lima Bean, LLC, while Layla Kurbanov of Greenwich, CT, placed fourth riding Wamira, owned by Jill Shulman, in 31.726 seconds. Calista Bell of East New Market, MD, rounded out the top five with her own C'est Bon Cidane in 33.348 seconds.
"I've never done an indoors circuit before," said Kimball, who was presented with The H. Fenwick Kollock Memorial Perpetual Trophy, donated by Friends of Fen, for her win. "I used to focus mostly on the hunters, but when I started riding with Ken and Emily Smith at Ashland Farms a year and a half ago, I got very serious about the jumpers and equitation."
After placing third and then second in children's jumper finals during the fall indoor season, Kimball was knocking on the door of a win, saying, "Ohio knows when it's important and when to rise to the occasion which is exactly what he did today. It was a big jump-off, so I really had to go for it. I had the mentality that I would win or have a rail and that's why it worked.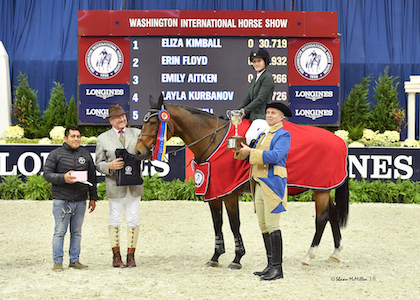 "This horse has taught me how to try and go fast," she continued. "I have only been showing on the 'A' circuit for two or three years, but Ohio has helped me to become more accurate and competitive."
Kimball attends Grace Church School in the Lower East Side of Manhattan and has learned to balance her riding endeavors with her studies since she started riding seven years ago.
"I got into riding to have a hobby over the summer and a hobby turned into more of a career," she said. "I love riding! It's my world, but I also focus on my academics and want to have a regular high school experience."
King and Co-Starr Speed to Top of $10,000 WIHS Adult Jumper Championship
Riding in her second time at WIHS, Stephanie King of St. Augustine, FL, sped to the top of the class in the $10,000 WIHS Adult Jumper Championship, presented by Days End Farm Horse Rescue, riding Co-Starr, her 11-year-old Belgian Warmblood gelding by Promise. For the win, King was presented with The Dorothy Foote "Goodie" Taylor Memorial Perpetual Trophy, donated by Mr. & Mrs. Robert Ashton Hill and Miss Linden Joan Hill.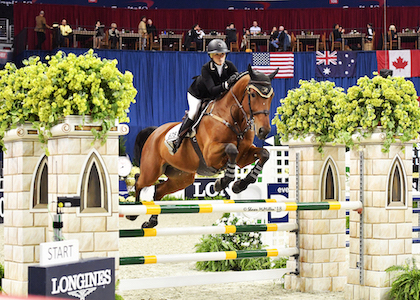 King and Co-Starr were one of 16 combinations that qualified for the jump-off. They were the fastest of nine double-clear rounds with a time of 27.175 seconds. Second place went to Morgan Baugher of Buckeystown, MD, and Down The Rabbit Hole, who had a time of 27.911 seconds, while Leslie Schillat or Malvern, PA, and SLF Destiny were third in 28.095 seconds.
WIHS President Vicki Lowell of Lexington, KY, piloted Phineas, owned by Sleepy P Ranch LLC, to fourth place in 28.226 seconds, and Alyson Gurney of Washington, DC , and Black Friday rounded out the top five with a time of 28.286 seconds.
King, who trains with Chad and Brooke Watridge, made the plan to stay steady with striding, but "focus on being tidy" in the turns. The plan worked, and they led the victory gallop at the end of the night.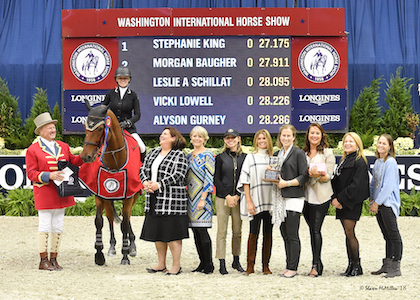 The win in the $10,000 WIHS Adult Jumper Championship went to Stephanie King of St. Augustine, FL, riding Co-Starr. Photo by Shawn McMillen Photography
"We came last year and didn't quite make it to the jump-off," recalled King, who has ridden Co-Starr for four years. "After I went clean in the first round today, I was super happy. Then to go in and have such a great jump-off, I was just thrilled.
"[Chad and Brooke] have taken me so far over the last three years that I've been riding with them," she continued. "They understand the horses, they understand the kind of program the horse needs, and they understand how to manage the riders so well. I would not be here if it wasn't for them."
$10,000 WIHS Children's Jumper Championship Results
1 ELIZA KIMBALL NEW YORK, NY AVAILABLE OHIO 0/0/30.72
2 ERIN FLOYD AUSTIN, TX RUSSELL 0/0/30.93
3 EMILY AITKEN BEDFORD, NY ZABELLE S 0/0/31.27
4 LAYLA KURBANOV GREENWICH, CT WAMIRA 0/0/31.73
5 CALISTA BELL EAST NEW MARKET, MD C'EST BON CIDANE 0/0/33.35
6 JAMES FALONI ESSEX FELLS, NJ GENIUS 0/0/33.59
7 CAROLINE BLUM CHARLOTTESVILLE, VA JENNERET 0/0/36.68
8 CLAUDIA CITRIN BEDFORD CORNERS, NY LILLY. 0/4/29.67
9 GRACE DEBNEY HAMPDEN, MA BYOLGA 0/4/29.88
10 CLAUDIA CITRIN BEDFORD CORNERS, NY DON JUAN 0/4/31.60
$10,000 WIHS Adult Jumper Championship Results
1 STEPHANIE KING ST. AUGUSTINE, FL CO-STARR 0/0/27.175
2 MORGAN BAUGHER BUCKEYSTOWN, MD DOWN THE RABBIT HOLE 0/0/27.911
3 LESLIE A SCHILLAT MALVERN, PA SLF DESTINY 0/0/28.095
4 VICKI LOWELL LEXINGTON, KY PHINEAS 0/0/28.226
5 ALYSON GURNEY WASHINGTON, DC BLACK FRIDAY 0/0/28.286
6 IZABELLE QUADRACCI HARTLAND, WI TIPPERARY HILL 0/0/28.405
7 MARGOT PERONI CALIFON, NEW JERSEY WENDER R 0/0/29.111
8 DAWN VILENO BROOKEVILLE, MD SUPER 10 0/0/32.159
9 HALEY SCHAUFELD WELLINGTON, FL COLORLAND'S CHEYENNE 0/0/32.926
10 LINDSEY TOMEU WELLINGTON, FL GOLD LUX 0/4/25.996
Lindsay Maxwell and Belgravia Sweep Amateur-Owner 35 & Under 3'3" Hunters for Grand Amateur-Owner Hunter 3'3" Championship
Lindsay Maxwell of Beverly Hills, CA, and her own Belgravia delivered an impressive sweep of the Amateur-Owner 35 & Under 3'3" Hunter division on Tuesday and Wednesday at WIHS, winning all three of the over fences classes and the under saddle to take the division tricolor. The pair's perfect score in the division ultimately guaranteed them the Grand Amateur-Owner 3'3" Hunter championship, sponsored by Mr. & Mrs. Ernest M. Oare.
"This is one of my absolute favorite shows; it means a lot to me to win here," said Maxwell, a strong supporter of the WIHS through her own Lindsay Maxwell Charitable Fund. "[Belgravia] has just been incredible throughout this indoor season. I had him for indoors last year, but I'd only had him for about a month. We had some great shows, and having a whole other year with him under our belt has really gotten him and us to a place where we know him really well and can rely on him being the same horse every time we come out."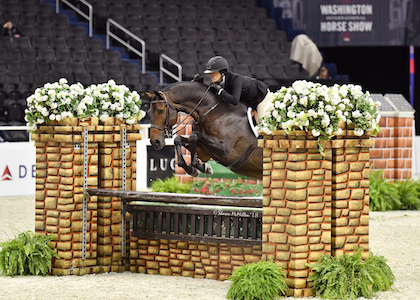 Maxwell came into the day with over fences and the under saddle wins.
"It was obviously nice coming into today with the two wins yesterday under our belt, but the pressure was still definitely on today," said Maxwell. "It's fantastic competition [at WIHS].
"In the handy, we got to go last, which was definitely an advantage because I knew where the scores were and where I needed to be. He's gotten handier and handier; we sort of have that aspect of his ride down which is really nice," continued Maxwell in speaking of the 10-year-old Warmblood gelding by Cyrano de Bergerac. "He laid down a beautiful handy trip, and then for the stake it was nice to not have as much of that pressure and just go in and have fun. It was a great course for him. Alan [Lohman]'s done an unbelievable job with the courses this year."
This year marks Maxwell's second consecutive year claiming a WIHS grand hunter championship title, as last year she earned the Grand Amateur-Owner 3'6" Hunter Championship aboard Technicolor, a mount that passed away unexpectedly this past year. Following his passing, Maxwell knew that WIHS was where she wanted to honor the gelding.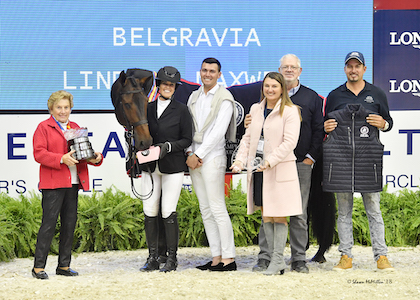 "It's incredible to be able to show horses in a venue like this – in a city center, to have people who have never seen or smelled or touched horses, to be able to just pop in here and watch an event like this. There aren't a lot of shows that can attract such a big crowd and introduce people to the sport in this sort of way," said Maxwell. "[Winning the Grand Amateur-Owner Hunter Championship here] was absolutely one of my favorite moments with Technicolor. To be able to win that was a dream come true and a huge goal of mine. That was one of our biggest accomplishments together, and this is one of my favorite horse shows, so it seemed like the perfect place to have a memorial award for him."
The award was presented to Catch Me, ridden by Becky Gochman and owned by Gochman Sport Horse LLC, as the horse that, in the opinion of the judges, best exemplifies the classic hunter in aesthetic, jumping style, and presence.
For her clean sweep of her division, Maxwell was also named the Leading Amateur-Owner Hunter 3'3" Rider.
In the Amateur-Owner Over 35 3'3" Hunter division, the championship went to Carma, owned and ridden by Virginia Fout of Los Angeles, CA. Fout and the 14-year-old Warmblood gelding by Rhodium earned a win in the under saddle and in the stake class, as well a second place over fences to captured the championship.
Bastogne Named Best Hunter with Hunt Tosh
The 2018 WIHS Grand Hunter Championship was awarded to Bastogne, ridden by Hunt Tosh of Milton, GA, and owned by Ceil Wheeler.
On their way to the top professional hunter honor, Tosh and the Warmblood gelding claimed two firsts and a second place over fences and the win under saddle in the Green Hunter 3'6" division to secure both the division championship and the Grand Green Hunter Championship, for which Tosh and Bastogne were awarded the Claire Lang Miller Challenge Trophy.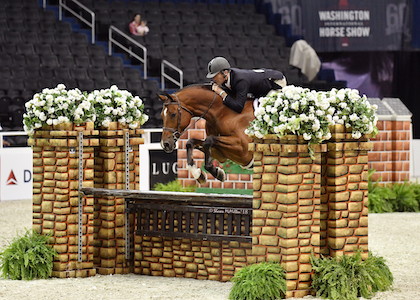 "Coming to a venue like this with a first year horse, you never know how they're going to take it, but he was great," said Tosh of Bastogne, who, at only six years old, was making his WIHS debut. "We all come hoping for the best. When everything goes your way and turns out well, it's great. He's so straight-forward. We just did what we've been doing all year and stuck with it!
"Sandy Ferrell [on Hemingway] and I went back and forth all year. She was champion last week [at the Pennsylvania National Horse Show], and then she told me, 'Good luck! I'm going home!'" said Tosh. "She hoped I could pull it off at Washington."
For the Grand Hunter Championship, Tosh and Bastogne were presented with The Rave Review Challenge Trophy, donated by Stoney Hill, as well as a box of Georgetown Cupcakes, as awarded to all division champions at WIHS.
"My daughter's probably in the cupcakes already, but I'm going to try and get my hands on one!" said Tosh.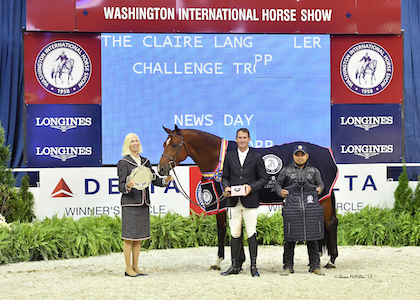 Tosh may be in luck, as he also acquired an additional cupcake box earlier in the day as the High Performance Hunter Champion with Flamingo-K. For the division championship, sponsored by Jacqueline B. Mars, Tosh was presented with the "Not Always" Challenge Trophy, donated by Miss Peggy Steinman.
"It was a great morning with Flamingo-K," said Tosh, who rode the 13-year-old Belgian Warmblood gelding (by Diamant de Semilly) to first, second, and fourth place finishes over fences. "Washington is such a great horse show; it's so special to be in the city, and it's always a great time showing here."
Like Bastogne, Flamingo-K is owned by Ceil Wheeler, whose family has been a great supporter of not only Tosh but hunter sport for many years.
"To have owners like that is unbelievable," said Tosh. "They're such a great family to own horses for us, and for those horses to come here at the end of the year and perform so well is amazing."
Also claiming multiple division championships on Wednesday was the 2018 leading hunter rider, Scott Stewart of Flemington, NJ.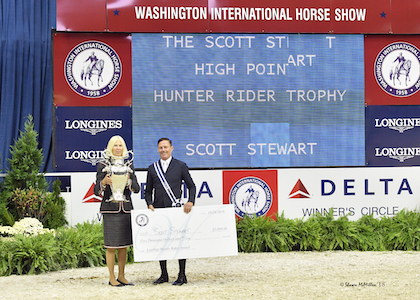 Stewart's first championship of the day came in the High Performance Conformation Hunter division aboard Private Life, owned by Dr. Betsee Parker. Stewart and the seven-year-old Dutch Warmblood claimed wins in both the handy and stake classes, as well as an additional second place over fences and third place under saddle to earn the championship. For the win, Stewart and Private Life were presented with The Mary Farren Perpetual Trophy.
Stewart picked up his second tricolor of the day aboard another Parker-owned mount, Harvard Hall. Stewart rode the seven-year-old Dutch Warmblood to two blue ribbons over fences and a third in the under saddle to win the Green Conformation Hunter championship and The Valiant Hawk Memorial Challenge Trophy, donated by Mrs. Stephen J. Clark.
With his consistent results throughout the day, Stewart accumulated the most points in the professional hunter divisions to claim the $5,000 Scott Stewart Leading Hunter Rider Award, sponsored by Dr. Betsee Parker, and the Scott Stewart High Point Hunter Rider Trophy, donated by his friends and family. In the last 10 years, Stewart has won the honor seven times, including the last three consecutive years.
Edging in to Stewart and Tosh's domination of the hunter division championships was Daniel Geitner of Aiken, SC, who rode Walk the Moon to the Green Hunter 3'9" championship. Geitner and the eight-year-old Oldenburg gelding, owned by Lynn Seithel, won both the handy and stake classes and finished second in both the third over fences class and the under saddle.
Becky Gochman and Catch Me Claim Grand Amateur-Owner 3'6" Hunter Championship
The Grand Amateur-Owner 3'6" Hunter Championship was awarded to Catch Me, ridden by Becky Gochman of Palm Beach, FL, and owned by Gochman Sport Horse LLC.
After not pinning in their first class of the Amateur-Owner Over 35 3'6" Hunter division, Gochman and Catch Me returned to win the under saddle on Tuesday and an over fences class on Wednesday, while also finishing third in the final over fences class to take the division championship, sponsored by Cembell Industries.
"He was a little spooky yesterday," said Gochman. "He is a little quirky. He studies the jumps so much, but that's what makes him such a great horse as well! After Scott [Stewart] won a class this morning on him [in the High Performance Hunters], that gave me more confidence to do him today. I was really thankful that Scott could show him the way today. It really made the difference for me."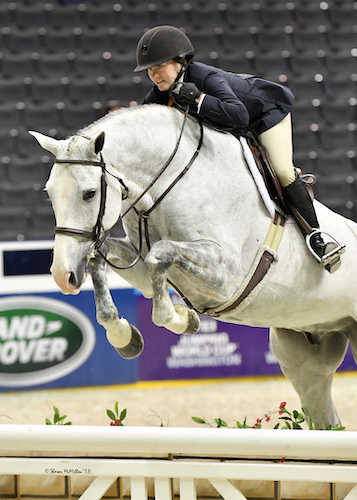 Catch Me, an 11-year-old grey Holsteiner gelding by Casiro I, has seen great success in the professional hunter divisions with Stewart, and now, the gelding is achieving similar success in the amateur hunter divisions with Gochman.
"This is the first year that I rode him," said Gochman. "We decided early on when I first bought him that we would take our time turning him into an amateur horse. We still do it very carefully because he is not the easiest, but again that's what makes him so good. He really jumps up and he uses himself well, but he's also very comfortable actually in the air. It's just a lot of fun.
"For 'Snoopy,' it's all about treats," continued Gochman, referring to Catch Me's barn name. "He just loves carrots and peppermints. The more treats that we give him, the happier he is. If we keep him happy, then we're all happy. He really responds to that. Even when I jog him in the ring, I have a pocket full of treats, and I probably give him about five treats during the jog. He totally loves that. It's almost like we're playing a fun, sweet game together. He just really is responsive to love."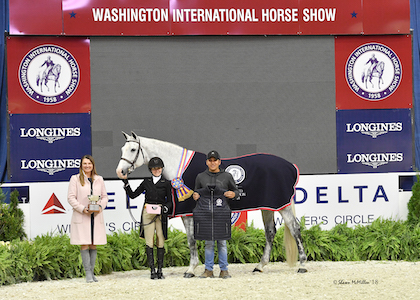 In addition to the division and grand championship, Gochman was named the Leading Amateur-Owner 3'6" Hunter Rider, and Catch Me was presented with the inaugural Technicolor Award, donated by Lindsay Maxwell.
The championship in the Amateur-Owner 35 & Under 3'6" Hunter division went to Sutherland, ridden by Jef Lauwers and owned by Peter Pletcher. Lauwers of Magnolia, TX, and the 13-year-old Oldenburg gelding won the under saddle and the stakes class to take the tricolor victory.
Competition at the 60th anniversary WIHS continues on Thursday beginning at 7 a.m. with the junior hunter divisions. In the afternoon, jumper competition takes center stage with the $2,500 Low Junior/Amateur-Owner Jumpers, followed by the $5,000 High Junior/Amateur-Owner Hunters, sponsored by the Gierkink Family Kadley Farm.
The evening session will begin at 6:30 p.m. and will welcome local riders, trainers, families, and fans for Barn Night, supported by BarnManager, Charles Owen, The Clothes Horse, The Equiery, The Loft at Meadowbrook, United Metro Golf Carts, and US Equestrian. The evening's session will feature the final round of the $40,000 International Jumper Welcome Stake, with the first round held earlier in the afternoon, and the $35,000 International Jumper Accumulator Costume Class.