2018 Klinger Award Goes To Big D and Sergeant Robar!
WASHINGTON, Oct. 22, 2018--The 2018 Washington International Horse Show (WIHS), this year celebrating its 60th anniversary October 23-28 at Capital One Arena in Washington, D.C., is pleased to announce Big D and Sergeant Russell Robar as the winners of the 6th Annual WIHS Klinger Perpetual Award for Honor and Service, presented by EQUUS Foundation and The Stephens Family.



The award recognizes a horse, individual, or organization that best demonstrates the values of honor and service as embodied by Klinger, a special horse who has touched the lives of many in his life of service with the 3rd U.S. Infantry Regiment (The Old Guard) Caisson Platoon.


This year's award goes to a partnership that is a community staple in Baltimore, Md. Big D is a 16-year-old palomino draft cross named in honor of fallen officer Forrest Edward "Dino" Taylor. Sergeant Robar, leader of the Baltimore Police Mounted Unit, and "Dino," have been partnered since 2016, when Robar joined the unit. They have served at more than 350 community, educational, and public safety events and exemplify the values of honor and service as embodied by Klinger every day, whether patrolling the streets or working with local youth.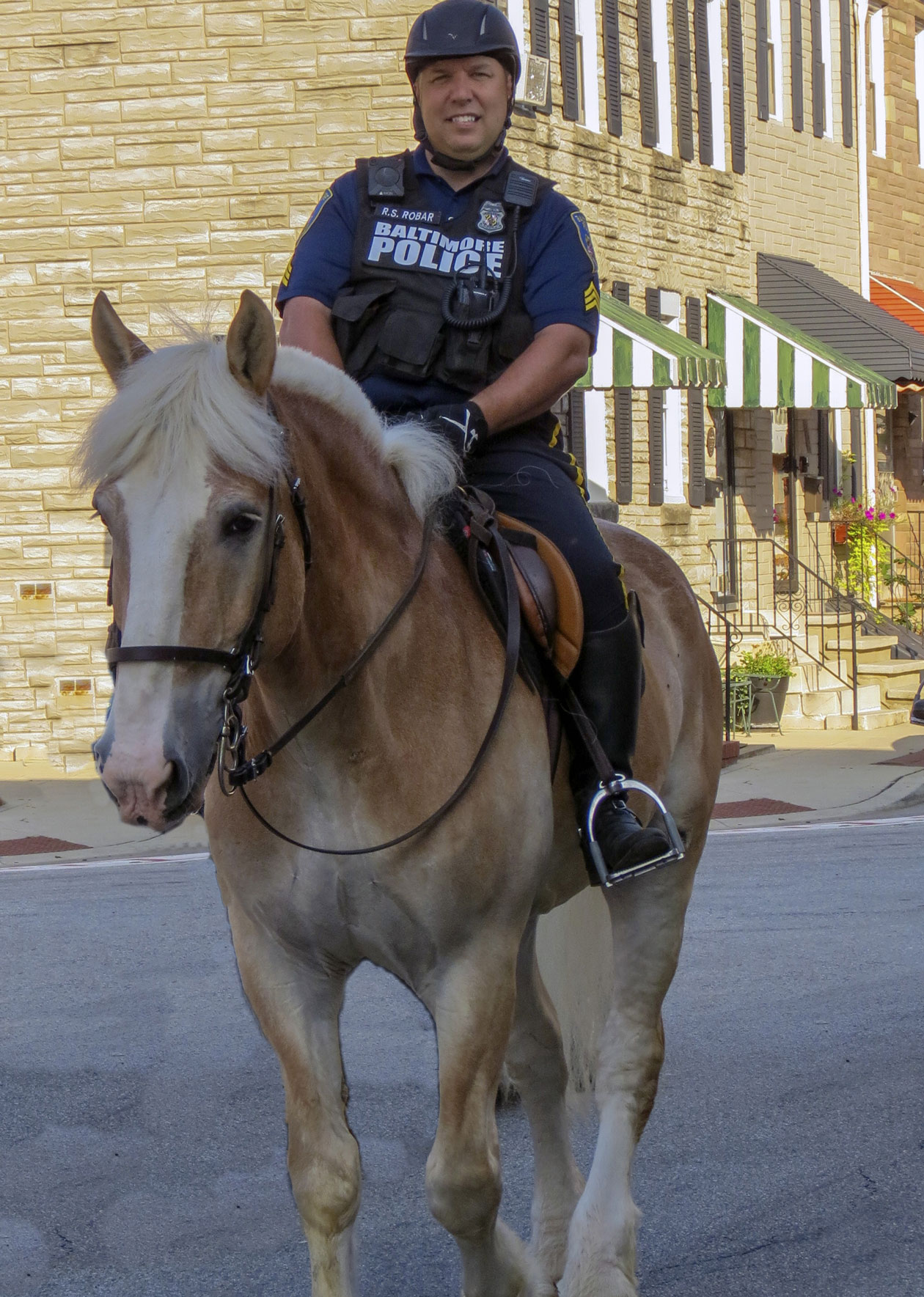 Sergeant Robar and "Dino" on patrol in Baltimore

If you're looking for Sergeant Robar, you'll usually find him at the stables of the Baltimore Police Mounted Unit, the oldest continually operated unit in the U. S. , checking that each horse is ready for duty and ensuring the unit continues to serve as a positive force in Maryland.



On WIHS Military Night, Friday, Oct. 26, Robar and Big D, will join Klinger and representatives of the Caisson Platoon, WIHS and EQUUS Foundation in a special presentation at Capital One Arena. As a member of the EQUUS Foundation Equine Welfare Network, the honoree will receive a $750 grant matched by a $750 donation from The Stephens Family for First Mile Stable Charitable Foundation,
established to construct an equestrian facility on the property of the B&O Railroad Museum for the use of the Baltimore Police Mounted Unit.
The interactive learning site will provide visitors with an immersive educational experience. with planned programs, activities, and demonstrations to build positive interaction between the community and Baltimore City Police officers--both two and four-legged. Its mission is to address the needs of the Baltimore Police Mounted Unit's human and equine officers as well as to create new and strengthen existing partnerships between the Baltimore City Police and the people of Baltimore.
The Klinger Award is offered annually. Nomination forms for the 7th Annual Klinger Award for Honor and Service will be available in July 2019. Learn more at
www.wihs.org/klinger-award
.
For more information on WIHS, please visit
www.wihs.org
, join us on
Facebook
, and follow us on
Twitter
and
lnstagram
,
YouTube
, and
Snapchat
. Tag us using #WIHSTurns60, #WIHS2018 #HorseslnTheCity, #FEIWorldCup, and #Longines.
About Klinger: At The Old Guard, Klinger performs solemn duties as a funeral escort bringing departed military members to their final resting spot at Arlington National Cemetery, serves as the official escort to the President of the United States and has led the Presidential Inaugural Parade. Beyond his official duties, Klinger brings comfort to veterans and families of our fallen heroes in his role as a Tragedy Assistance Program for Survivors (TAPS) Ambassador. He has been an important part of WIHS for many years--visiting with children on WIHS Kids' Day and participating in the Caisson Platoon exhibition on WIHS Military Night. It is both fitting and a great honor for WIHS to salute Klinger through this special award.
About EQUUS Foundation:
EQUUS Foundation, a 501(c)(3) public charity established in 2002, also known as Horse Charities of America, is the only national animal welfare charity in the United States 100% dedicated to protecting America's horses and strengthening the bond between people and horses. Donations are tax-deductible to the full extent of the law. Contact EQUUS Foundation, Inc., at 168 Long Lots Road, Westport, CT 06880; (203) 259-1550,
mail@equusfoundation.org
, Website:
www.equusfoundation.org
.
Established in 1958, the Washington International Horse Show is one of North America's most prestigious and entertaining equestrian events, attracting more than 26,000 spectators annually to Washington, D.C., for Olympic-level competition plus community and charity events. More than 500 top horses and riders arrive from all over the globe to jump for more than a half a million dollars in prize money. Highlights include the $135,000 Longines FEI Jumping World Cup™ Washington for the President's Cup presented by Events DC, the $25,000 Land Rover Puissance (high jump) and Kids' Day, a free, fun and educational community event. WIHS, an official USEF Heritage Competition, is rated CSI4*-W by the Fédération Equestre Internationale, the world governing body for horse sports. The Washington International Horse Show Association, Ltd. is a 501(c)(3) nonprofit charitable organization based in Washington, D.C.