WASHINGTON, Oct. 29, 2017 -- The 59th annual Washington International Horse Show (WIHS) concluded on Sunday, October 29, with pony competition taking center stage and culminating with Stella Wasserman of Beverly Hills, CA, earning the Grand Pony Hunter Championship riding her own Benetton.

Wasserman's first-ever grand championship came after she piloted Benetton, a nine-year-old gelding by Top Mosaik, to win two of the pony hunter classes in the large division, as well as earn second in another and finish fifth under saddle.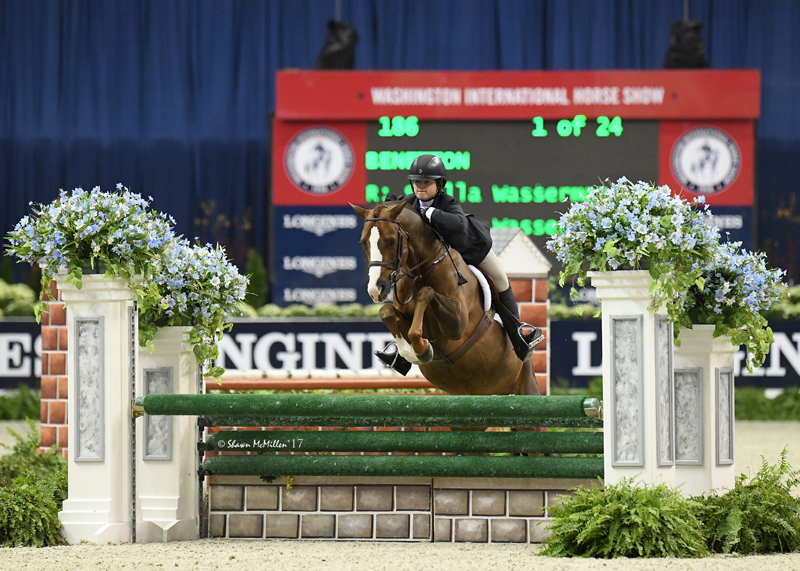 "We have had our roller coaster ride and it has taken me a while to figure him out, but he is such a good boy," said Wasserman, 11, of Benetton, who she calls Benny. "He picks and chooses his riders and at first we didn't really click, but then I started to learn what he likes and how he likes to go and we finally started to figure each other out.

"He likes when you sit and keep a hold of the reins, but have a soft feel," continued Wasserman, who travels to compete on the East Coast about four times a year. "He has a big personality and there is really no pony like him."

This year was Wasserman's second time competing at WIHS, and she was also champion in the Small Junior Hunter 15 & Under division with Boss, owned by her mother Laura Wasserman, earlier in the week.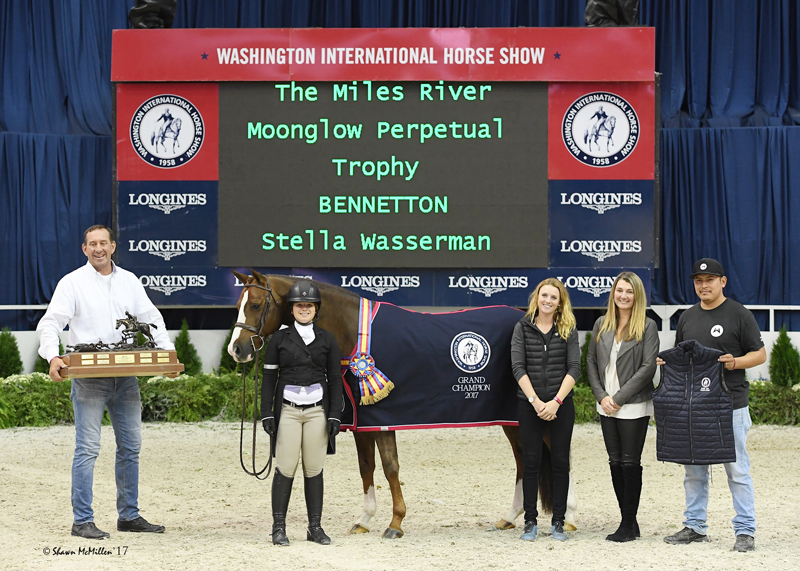 "It is so much fun being in such a big stadium under the lights," said Wasserman, who trains under the direction California-based Archie Cox. "It is so different than any other horse show, and even any other indoor show being right in the middle of the city like this."

While remaining competitive in the pony ranks, Wasserman is now hoping to continue progressing in junior hunter competition and start to also focus on jumpers and equitation as well.

Reserve champion in the Large Pony Hunter division was awarded to Gabrielle Sokolow of Westlake Village, CA, and her own Kingston. Sokolow was also awarded the Captain V.S. Littauer Perpetual Trophy as Best Child Rider on a Pony.

The Small Pony Hunter Division commenced the final day of WIHS with champion honors being presented to Alexa Lignelli of New York, NY, and her own iParty. Reserve champion went to Rose Campbell of Cochranville, PA, and Blueberry Hill, owned by Maher Family, LLC. Rounding out pony hunter competition, Raina Swani of New York, NY, was champion in the medium division aboard Newhaven's Magnum, owned by Shadowfax Equestrian, LLC. Reserve went to Libbie Gordon of Statesville, NC, and Astro Boy, owned by Elle Gibbs.

Grace Debney Tops WIHS Pony Equitation Finals

Grace Debney, 13, of Hampden, MA, posted a high score of 87, and held onto the top spot after the flat phase to win the WIHS Pony Equitation Finals riding Denmark, owned by John Skinner. Behind Debney, Libbie Gordon was second riding Child's Play Hot Topic, owned by Mia Albello, and Elle Gibbs of Charlotte, NC, took third aboard Woodland's Misty Rain, owned by Aldridge Equestrian, LLC. Alexa Lignelli of New York, NY, finished fourth on her own Fox Creek's Curious George, and Abigail Gordon rounded out the top five riding her own Farmore State Of The Art.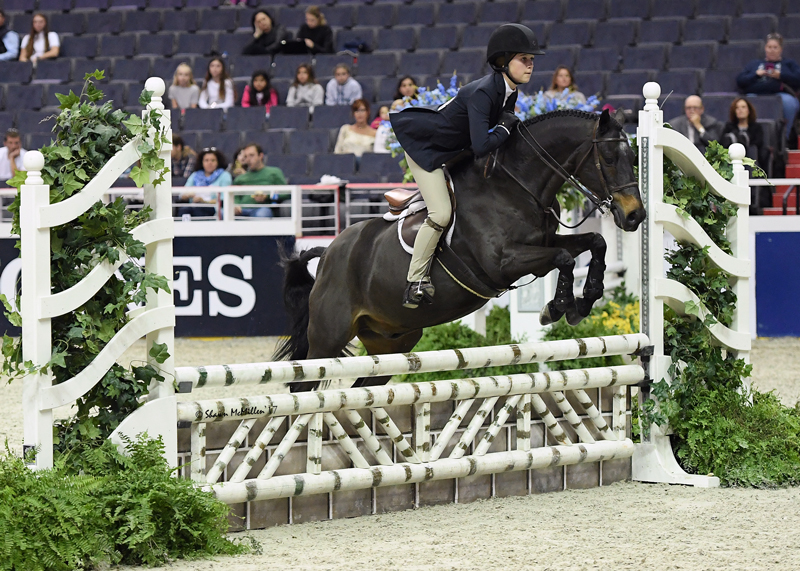 Debney has been riding Denmark for three years and finished third in the WIHS Pony Equitation Finals in 2016 with the 23-year-old Welsh Pony/Thoroughbred gelding by Shams Night Light.

"This is really my first time doing this well, so it is a great feeling," said Debney of her final show with Denmark, who will likely take a step toward retirement after a successful hunter and equitation career. "It feels good to be able to end on a good note with him.

"He is perfect," continued Debney of Denmark. "I can make a mistake and he will just keep going. He is a winner so he wants to win everything and if he doesn't he gets a little sassy, but he is very happy today."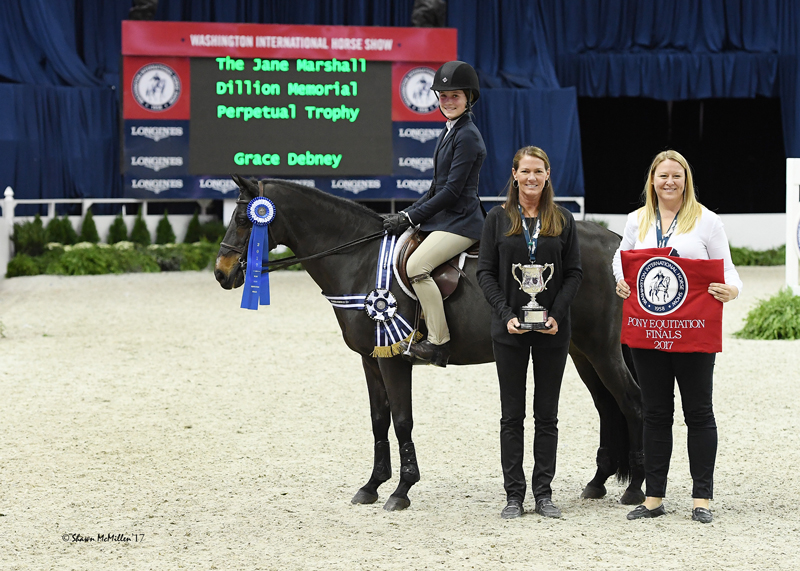 Debney trains with Stacey Weiss and while she will still show ponies, her next goal is to start focusing more on moving up to horses, saying, "I would like to have a successful first year in the junior hunters. I don't have to win everything, just get experience and then focus on moving up and trying to be competitive."

Of her time competing at WIHS this year, Debney noted, "It feels really great just to qualify to come here, so to do well is really special. This whole year has been amazing and this was the perfect way to end it."

WIHS Regional Hunter Finals Winners Crowned

Sunday concluded with WIHS Regional Hunter Finals, presented by The Linden Group at Morgan Stanley, which kicked off last week at the WIHS Regional Horse Show at Prince George's Equestrian Center in Upper Marlboro, MD. The Regional Pony Hunter Final win was presented to 15-year-old James Fazekas of Friendship, MD, riding his own Beaudacious.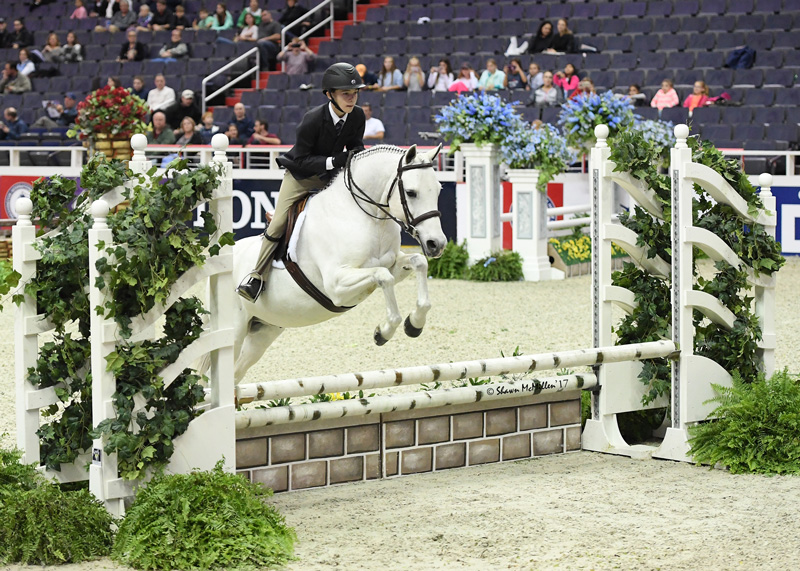 Fazekas pilots the 13-year-old Connemara/Welsh Pony gelding by Greystone Ian McVai under the direction of trainer Suzanne Chambers and posted the high score of the day with an 82. Kelsey Lambert of Chevy Chase, MD, and her own Tiny Tunes were second, while Payton Flanders of Lothiand, MD, and Jamrock, owned by Linda Wilson, placed third. Kylie Reynolds of Bowie, MD, was fourth riding Maranatha Flash, owned by Harmony Ridge Stables, LLC, and hometown rider Josephine Samuelson of Washington, D.C., rounded out the top five aboard her own Cool Rock.

"I have been riding Beaudacious for a year and my favorite things about him are that he has a great personality and he always keeps me safe," said Fazekas, who competed at WIHS for the first time on Sunday. "It was definitely intimidating to walk into that ring, but my trainer just told me to ride my corners and to have fun!"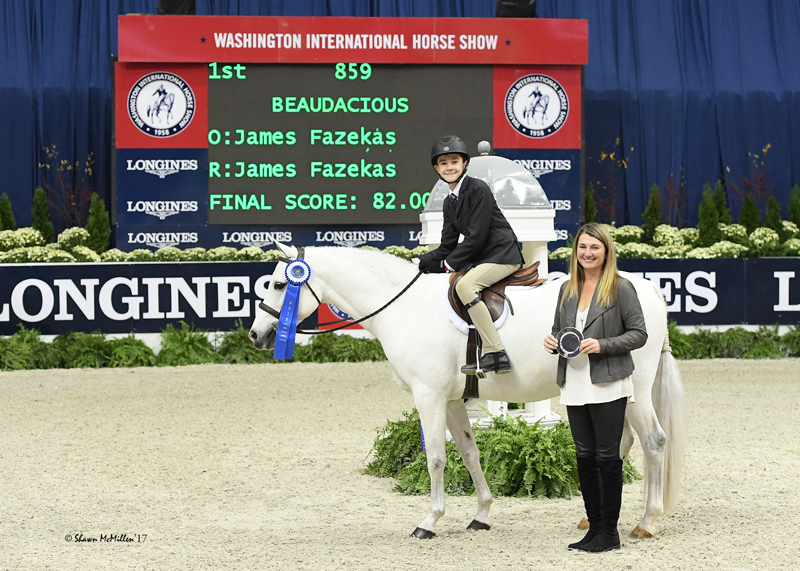 According to Fazekas, his goals are to continue to improve his rounds with Beaudacious and hopefully be back at WIHS in 2018, saying, "I was surprised to hear my name called as the winner, but my pony and I work really hard, so I was happy that we can be recognized for it. I am just really proud of him."

Lambert and Tiny Tunes were named the overall champions of the WIHS Regional Pony Hunter division, with Reynolds and Maranatha Flash taking reserve.

The Regional Hunter Final for horses concluded the 2017 WIHS as the final class of the week and crowned Courtney Morton of Clarksburg, MD, the winner riding her own Vivid Star. Their score of an 81 gave them the victory.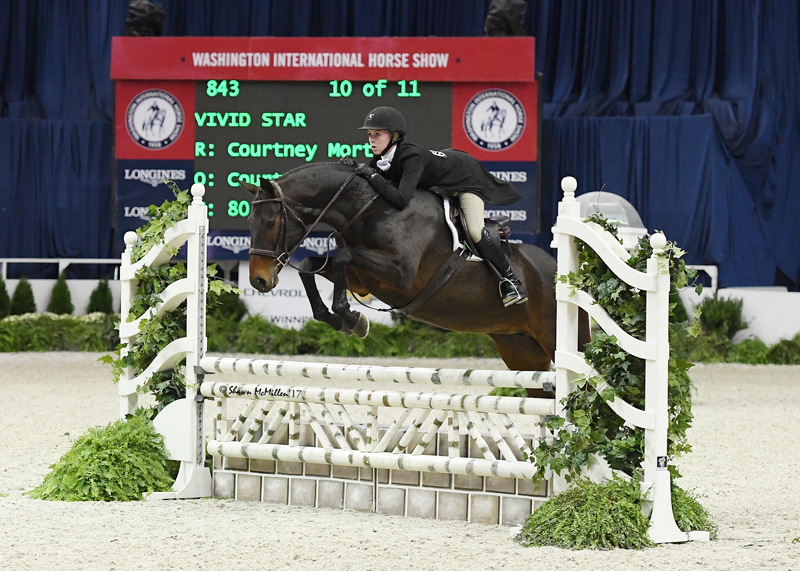 Courtney Morton and Vivid Star. Photo by Shawn McMillen Photography
Ana Bertozzi of Leesburg, VA, and True Colors, owned by James Webb, finished in second, and Amelia Lucas of Columbia, MD, took third riding her own Valentina. Lauren Hale of Owings, MD, and her own No Excuses rode to fourth, with Kelsey Sullivan of Hamilton, VA, and her own Sambalia rounding out the top five.

Sunday's victory marked Morton's first win at WIHS and she did it riding the 12-year-old Holsteiner/Thoroughbred mare by Coming Star with trainer Alan Lohman on the sidelines.

"This is a great experience and the win of a lifetime for me," said Morton, 16. "It's a big deal to compete in this arena and be in the city, but I knew that my horse had me and would take care of me."

Morton got the ride on Vivid Star three years ago when the mare came to her as a sales prospect, but it didn't take long for that to change.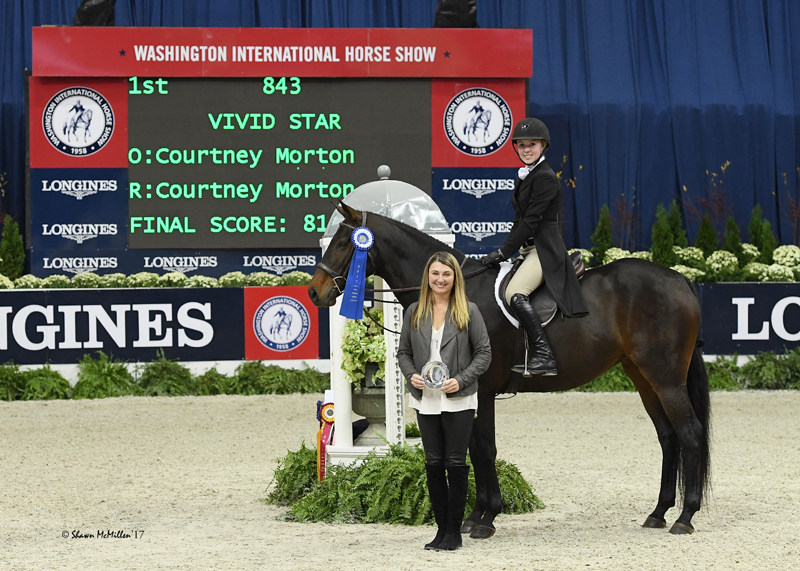 "I told my mom that I loved her and we needed to buy her," said Morton, who also competes Vivid Star in the junior hunters. "We bought her and we just clicked and now here we are winning at Washington. She's defiantly no longer for sale."

Morton hopes to return to WIHS in 2018 and step Vivid Star up into 3'6" competition, saying, "Her biggest strength is her amazing jump. It's beautiful every time no matter what happens."

Morton is currently a junior in high school with plans to attend college and one day become a veterinary technician.

After taking fourth in the final, Hale and No Excuses were honored with the WIHS Regional Hunter Championship with Morton and Vivid Star taking reserve.

The Washington International Horse Show wrapped six days of top competition, year-end championships, and horse show-inspired fun on Sunday, and will return to Capital One Arena in downtown Washington, D.C. on October 23 through 28, 2018. For more information on the Washington International Horse Show, please visit www.wihs.org, join us on Facebook, and follow us on Twitter and Instagram. Tag us using #WIHS2017, #HorsesInTheCity, #FEIWorldCup, #RidetoParis, and #Longines.

WIHS Pony Equitation Finals
1. GRACE DEBNEY HAMPDEN, MA DENMARK 87
2. LIBBIE GORDON STATESVILLE, NC CHILDS PLAY HOT TOPIC 85
3. ELLE GIBBS CHARLOTTE, NC WOODLANDS MISTY RAIN 83
4. ALEXA LIGNELLI NEW YORK, NY FOX CREEKS CURIOUS GEORGE 82
5. ABIGAIL GORDON STATESVILLE, NC FARMORE STATE OF THE ART 84
6. KAT FUQUA ATLANTA, GA GOLDHILL'S ARRESTING CHARM 80
7. GABRIELLE SOKOLOW WESTLAKE VILLAGE, CA KINGSTON 78
8. ALEXANDRA RYDEN CARY, NC CELTICS CREEK FRIAR TUCK 76
9. LILY OELSCHLAGER COPLEY, OH WHY NOT 74
10. CLAIRE CAMPBELL COCHRANVILLE, PA LEON 73