October 28, 2017 – Beat Mändli of Switzerland made his first visit to the Washington International Horse Show (WIHS) a successful one, claiming the victory in the $130,000 Longines FEI World Cup™ Jumping Washington, presented by Events DC, on Saturday night.
Competing for the coveted President of the United States Perpetual Cup, donated by First Lady Jacqueline Kennedy, as well as valuable Longines FEI World Cup™ qualifying points, the grand prix was the highlight event of the week-long show, continuing through Sunday, at the Capital One Arena in downtown Washington, D.C.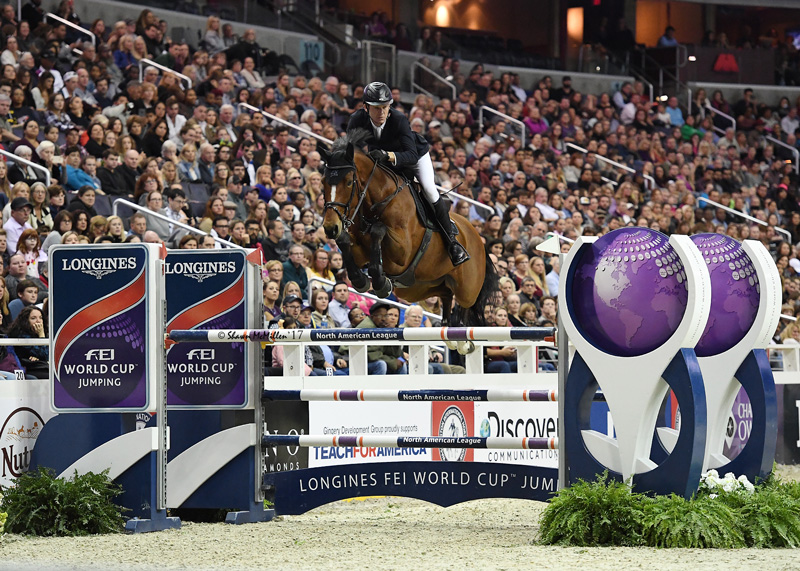 Mändli was one of 26 international jumper competitors to contest the first round track set by course designer Alan Wade (IRL), and he and his mount Dsarie, owned by Grant Road Partners GmbH, were one of 11 combinations to advance to the jump-off. As the sixth to return, Mändli and the nine-year-old Dutch Warmblood mare set what proved to be an untouchable time of 32.07 seconds.
U.S. Olympian and reigning Longines FEI World Cup™ champion McLain Ward came the closest to besting Mändli, finishing in second aboard HH Callas, owned by Double H Farm, with a time of 32.30 seconds. Young U.S. rider Catherine Tyree, 23, rounded out the top three in a time of 33.83 seconds aboard Enjoy Louis, owned by Mary and Joseph Tyree.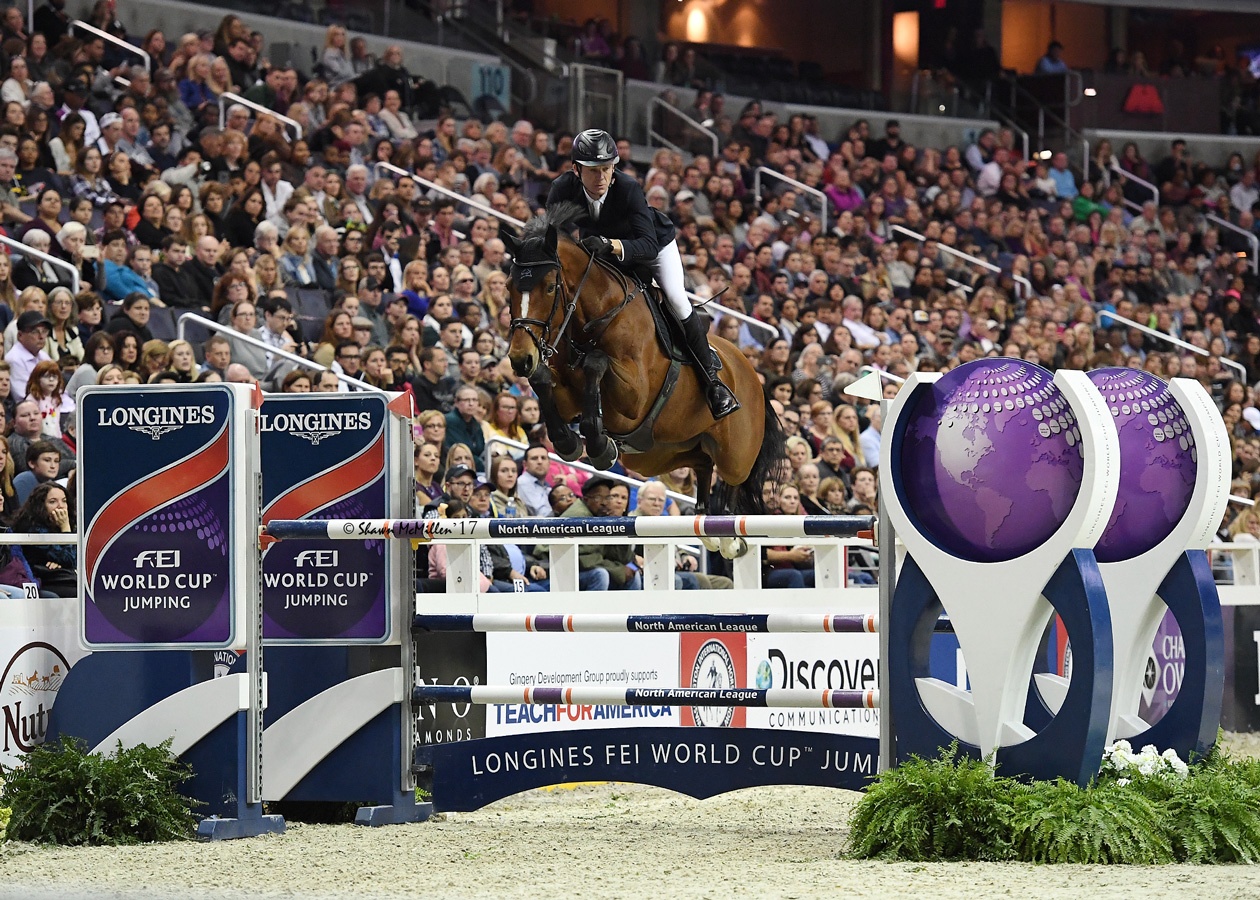 "I feel great. Everything worked out better than I was thinking at the start of the week," said Mändli. "I'm just super happy for the horse and for the whole team. It was a great night for me."
It was a good night for Ward as well, who only partnered with HH Callas, a ten-year-old warmblood mare, at the beginning of the 2017 show season.
"I was pleased. We didn't have a brilliant grand prix last week in Tryon. It was nice to rebound and have a good finish today," said Ward. "Beat had a spectacular jump-off tonight. You were going to have to be pretty perfect to be able to catch him."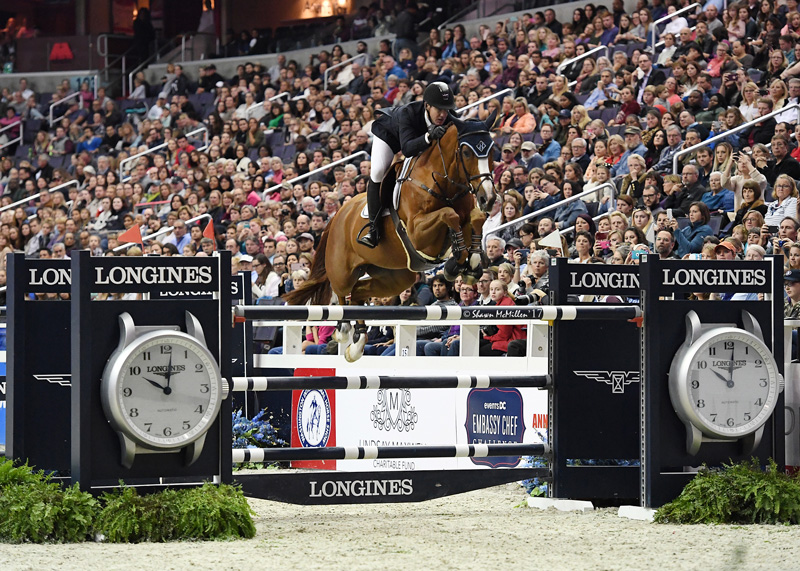 With 11 horses in the jump-off, the first-round course proved slightly easier than Alan Wade anticipated, but the course designer was still happy with the outcome.
"I thought they'd have had to ride harder to jump clear, but horses seemed to be jumping very well," said Wade. "Still at the end of the jump-off, the cream rose to the top, and the best competitors are here on the podium."
Part of the reason for the horses jumping well could be attributed to new footing installed in the Capital One Arena for the 2017 horse show, something that WIHS President Victoria Lowell spoke to following the class.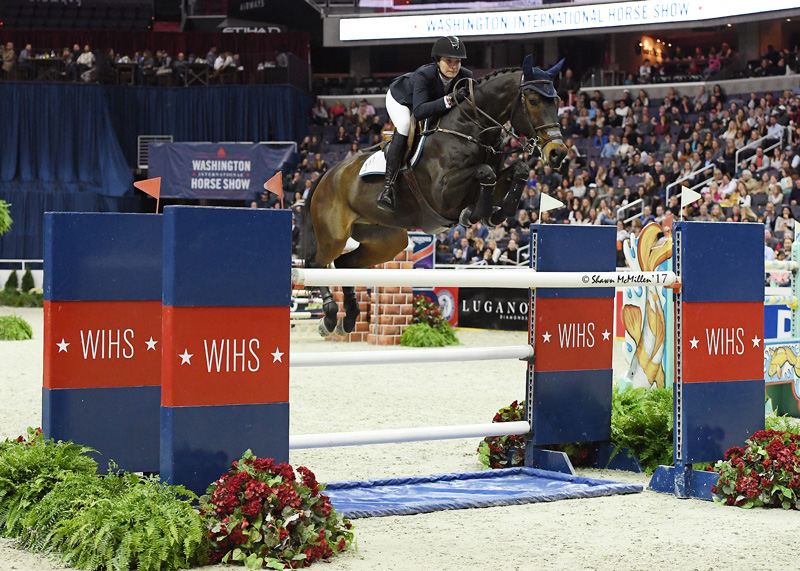 "There was no question that we had to invest in the best possible footing for the horses," Lowell said. "I was so happy to hear the positive feedback that we had this year because [the footing] was the most important thing to our board this year. The World Cup designation is very, very important to us. We need to make sure that this event continues. It's a very historic event; it's a very special event because it's downtown in the city much like Madison Square Garden was. We work very, very hard to make it the best show possible."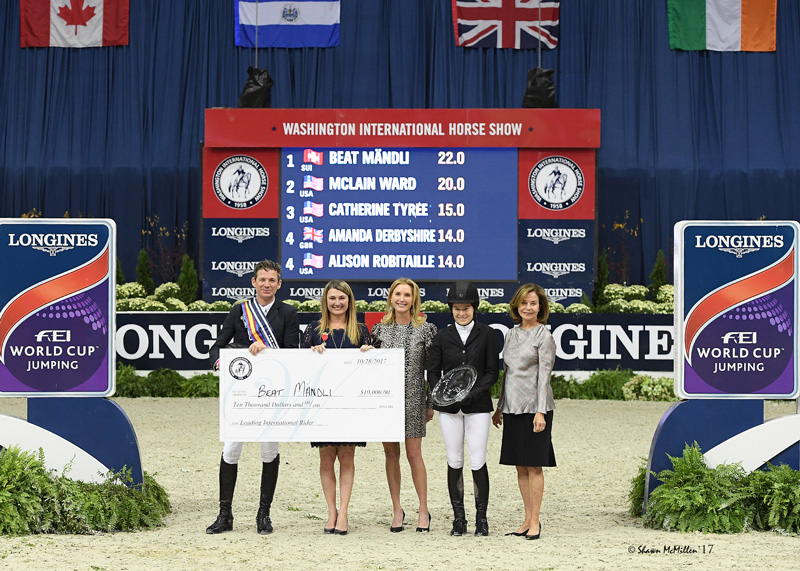 Following the conclusion of Saturday night's class, several special awards were presented along with the top grand prix prizes. Mändli was presented with the $10,000 Leading International Rider Award, sponsored by Robin Parsky; the Leading Foreign Rider Award, and the International Jumper Championship. Tyree was awarded the $10,000 Leading 25 Years of Age & Under Award, sponsored by Sleepy P Ranch, and the Leading Lady Rider Award, sponsored by Longines. The Leading Jumper Owner Award went to Grant Road Partners.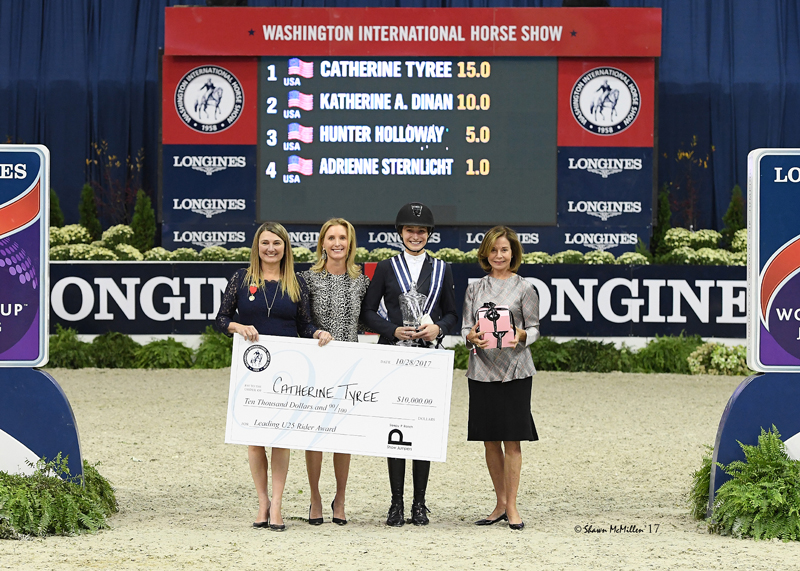 The George Morris Style of Riding Award was also presented earlier in the day to Mändli, as the International Jumper rider who best exemplifies the American style of equitation and jumping and the respectful, dignified, and workmanlike manner of a true sportsman.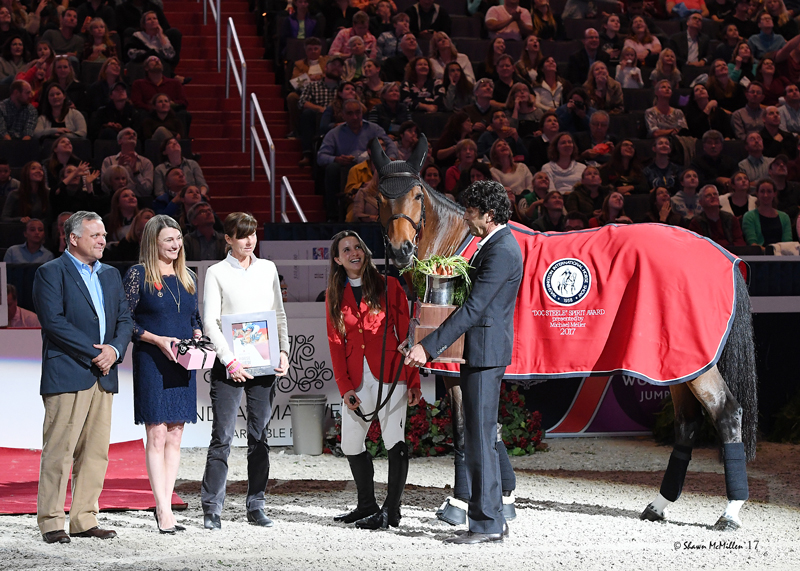 Newly introduced this year in honor of the late Dr. John Steele, the "Doc Steele" Spirit Award, presented by M. Michael Meller, went to Cristalline, ridden by Adrienne Sternlicht and owned by Gabrielle Kuna, recognized as the horse that best exemplifies the heart and athleticism necessary to be competitive at the highest levels of show jumping.
RESULTS: $130,000 Longines FEI World Cup™ Jumping Washington, presented by Events DC
1. 041 Dsarie Beat Mändli SUI 0 59.30 sec 0 32.07 sec
2. 025 HH Callas McLain Ward USA 0 59.47 sec 0 32.30 sec
3. 003 Enjoy Louis Catherine Tyree USA 0 57.72 sec 0 33.83 sec
4. 020 Ace Alison Robitaille USA 0 60.97 sec 0 34.57 sec
5. 040 Dougie Douglas Katherine A. DinanUSA 0 58.65 sec 4 32.03 sec
6. 015 Cassinja S Charlie Jacobs USA 0 58.41 sec 4 33.62 sec
7. 032 VDL Wizard Callan Solem USA 0 59.10 sec 4 33.98 sec
8. 023 Nektarina B Christine Mc Crea USA 0 59.15 sec 4 37.38 sec
9. 027 Robin de Ponthual Peter Lutz USA 0 58.92 sec 8 32.89 sec
10. 047 Hermelien vd Hooghoeve Ali Ramsay CAN 0 58.17 sec 8 34.58 sec
11. 049 Clear Water Marilyn Little USA 0 56.57 sec EL -
12. 034 Main Road Shane Sweetnam IRL 4 56.41 sec
RESULTS: $7,500 Low Junior/Amateur-Owner Jumper Classic, sponsored by Britten and Sheila Sanderford
1. ALEXANDRA WELLES Wellington, fl X M 0:0 33.69
2. SOPHIE GOCHMAN PALM BEACH, FL CAROLA BH 0:4 32.17
3. SHELLY ZIMMERLI Fairfax Station, VA ROCKEFELLER Z 0:4 33.14
4. CAROLINE DONNALLY Wellington, Florida REVE DU RAZZY - elim -
5. MIMI GOCHMAN PALM BEACH, FL EVEREST DE MUZE 4 54.46
6. MIMI GOCHMAN PALM BEACH, FL AVOLOMA BH 4 55.79
7. AVA ELLIS ANNAPOLIS, MD QUICKLEY 3 4 55.92
8. BAILEY DOLOFF Sykesville, MD DIVA 4 56.06
9. MCKAYLA LANGMEIER EAST GRANBY, CT WHISTLER 4 57.29
10. KATHRYN HALL NEW YORK, NY VICTOR E 4 57.64
RESULTS: $15,000 High Junior/Amateur-Owner Jumper Classic, sponsored by Kadley Farm
1. COCO FATH FAIRFIELD, CT HUCKLEBERRY 0:0 33.78
2. TAYLOR ST JACQUES Glen Allen, Virginia QANTAR DES ETISSES 0:0 34.42
3. ALEXANDRA PIELET HIGHLAND PARK, IL HELENE VE 0:4 31.68
4. MCKAYLA LANGMEIER EAST GRANBY, CT DUROSA W 0:4 33.62
5. SOPHIE GOCHMAN PALM BEACH, FL BLUF BH 4 57.79
6. SAMANTHA COHEN NEW YORK, NY CARMEN 4 59.33
7. MADISON GOETZMANN SKANEATLES, NY PRESTIGIOUS 4 59.66
8. BRIAN MOGGRE Flower Mound, Texas CONDERO 3 4 61.19
9. DAISY FARISH Lexington, KY ALBERTO II 5 63.10
10. SAM WALKER NOBLETON, ON TWAN 7 65.10
$7,500 Low Junior/Amateur-Owner Jumper Classic, sponsored by Britten & Sheila Sanderford, winner and division champion: Alexandra Welles on XM, owned by Alexandra Welles

$15,000 Show Jumping Hall of Fame High Junior/Amateur-Owner Jumper Classic, sponsored by Kadley Farm, winner: Coco Fath on Huckleberry, owned by Hillside Farm, LLC
High Junior Amateur-Owner Jumper division champion, sponsored by Kadley Farm: Alexandra Pielet and Helene Ve, owned by Co-Pielet, LLC
Taylor St. Jacques Wins Lindsay Maxwell Charitable Fund WIHS Equitation Finals
WASHINGTON, Oct. 28, 2017--The victory in the 2017 Lindsay Maxwell Charitable Fund WIHS Equitation Finals went to Taylor St. Jacques of Glen Allen, Va.
Forty of the nation's top junior riders qualified to ride in this year's final, competing first in a hunter phase on Friday and then in a jumper phase on Saturday afternoon. Riders' average scores from the two rounds were combined, and the ten top-ranked competitors then swapped horses and returned for the final work-off phase on Saturday night.
At the end of the first two rounds, St. Jacques sat in sixth place aboard her own Di Samorano, but an exceptional work-off round earned her scores of 94 and 92 aboard eventual ninth place winner, Annabel Rever's mount Contigo 37.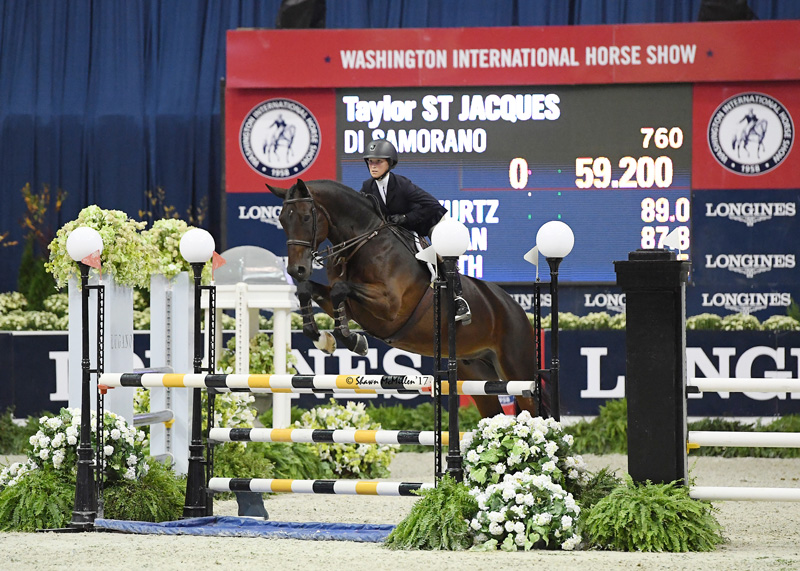 Going into the work-off phase, it was Ava Stearns of Chilmark, MA, who led through both the hunter and jumper phases, but an error in the opening line of her work-off would move her to the eventual sixth place position, leaving the window open for St. Jacques to take over the lead with an overall score of 264.125.
Finishing in a close second with a score of 261.625 was McKayla Langmeier of East Granby, CT, riding Skyfall, owned by Linda Langmeier, and contesting the work-off round aboard Haley Redifer's mount Vondel DH Z. Langmeier moved up from fourth to take the reserve honor, while Sam Walker of Nobleton, ON, moved from second to third to round out the top three with a score of 261.200 aboard Waldo, owned by North Run.
"These kids rode amazing. Any of the three of them could have been the winner," said judge Chris Wynne, who was joined on the panel by Jimmy Clapperton, Scott Williamson, and former WIHS Equitation Finals winner Brianne Goutal. "What we can say about these three is that they're horsemen. It wasn't just a class; I think it's probably a career sitting up here. It looks like three future Olympians, hall of famers, or great professionals. That was the difference that we loved about these kids. It wasn't just a good equitation horse with a good equitation rider. It was very talented kids doing equitation tonight and tomorrow doing jumpers, and they'll do that equally as well I'm sure."
For St. Jacques, 18, who came into Saturday night's final phase fresh off a win in the Dover Saddlery/USEF Hunter Seat Medal Final at the Pennsylvania National Horse Show aboard Charisma, the WIHS Equitation Final victory felt extra special thanks to the horse she was mounted on.
"It's honestly a feeling that I can't describe to win on my own horse," said St. Jacques of Di Samorano, her nine-year-old Dutch Warmblood gelding. "I've never cried before, and I honestly cried. He's a family horse. He's not just a horse that you bring out to show. I'm kind of happier for my horse than I am for myself."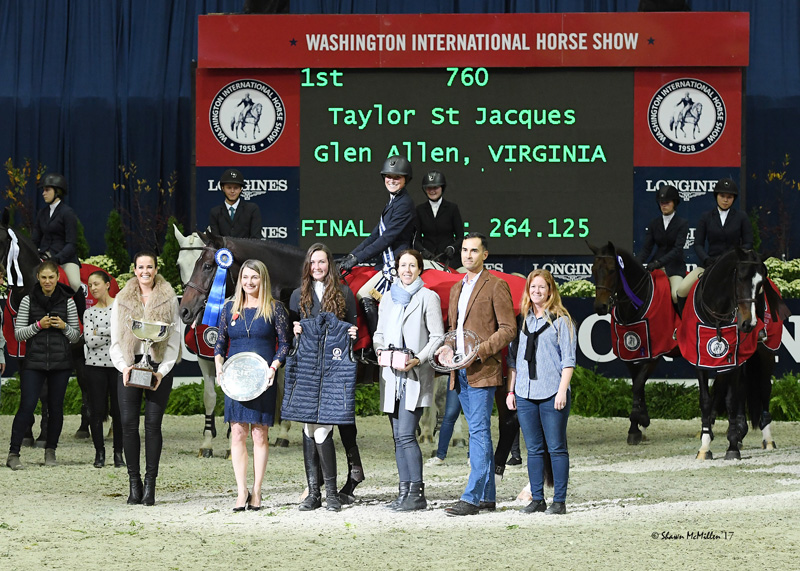 St. Jacques trains with Andre Dignelli and Patricia Griffith out of Heritage Farm, and Dignelli echoed her sentiments toward 'Samo.'
"I thought the rounds were stunning, so it was very, very exciting. I thought it was really awesome for Taylor to win on a horse that she owns," Dignelli said. "Samo has been sort of the unsung hero of 2017. He's done all the work, and Charisma has gotten all of the glory. I think it's really awesome for them to have the horse that they bought, and they own, and that they trailer around in their horse trailer. This is a fairy tale I think for them – and for us."
St. Jacques was presented with the WIHS Equitation Classic Trophy, donated by Mr. and Mrs. G. Ralph Ours, III, for her win, while the Lugano Memorial Trophy for the winning horse, donated by Stoney Hill, was awarded to Di Samorano.
The 2017 Washington International Horse Show concludes on Sunday with the presentation of championship honors in the Pony Hunter divisions as well as the WIHS Pony Equitation Finals and WIHS Regional Finals, sponsored by The Linden Group at Morgan Stanley.
Find full results of the 2017 Lindsay Maxwell Charitable Fund WIHS Equitation Finals here.