WASHINGTON, Oct. 26, 2017--Beezie Madden (USA) and Beat Mändli (SUI) claimed international jumper victories on Thursday, Oct. 26, at the Washington International Horse Show CSI4*-W (WIHS), running now through Oct. 29, at the Capital One Arena in downtown Washington, D.C.
Madden's victory came aboard Breitling LS, who topped a field of 26 entries to win the $35,000 International Jumper Welcome Stake, presented by Rushy Marsh Farm.
Madden, a two-time Olympic team gold medalist, and the 11-year-old Dutch Warmblood stallion (by Quintero) owned by Abigail Wexner, were one of nine entries to successfully contest the first-round over a track designed by Alan Wade (IRL). Advancing to the jump-off, the pair laid down a clear time to beat of 30.78 seconds.
It was not until fellow American Alison Robitaille entered the ring as the final to return that anyone came within even a second of Madden's time, with Robitaille taking second place in a time of 31.62 seconds aboard Ace, owned by Bertram & Diana Firestone. Finishing in third with a clear jump-off time of 31.92 seconds were Laura Kraut and Confu, owned by St. Bride's Farm, giving the U.S. a clean sweep of the top three positions.
"Even though Saturday night is my biggest goal, today was a great class, and it seems to help him to try to be competitive all week so that was the plan," said Madden, alluding to the week's highlight event, the $130,000 Longines FEI World Cup Jumping Washington CSI4*-W, presented by Events DC. "When [Breitling LS] was green he wasn't quite as quick a thinker, but now he's gotten handy. He has a big enough stride that he can leave strides out, and at the same time he has a quick gallop too, so in these smaller venues where jumps come up fast and there's not so many options, I think he's faster than some."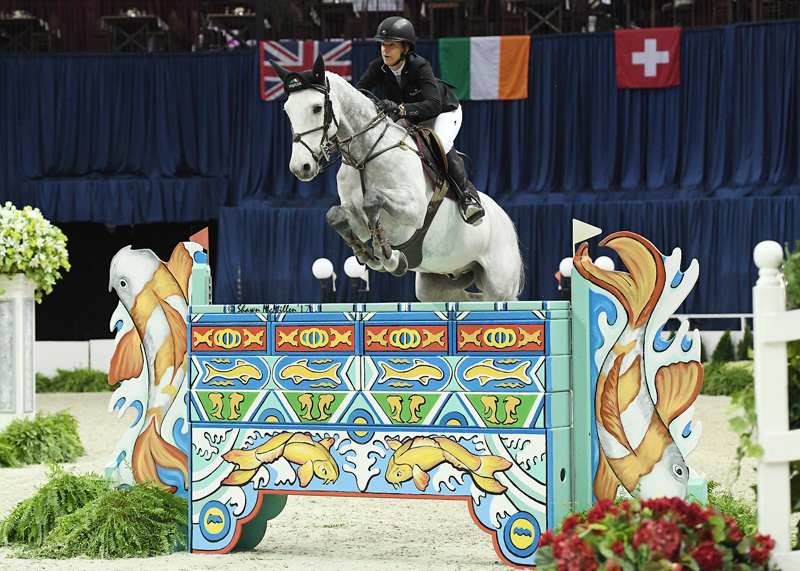 Laura Kraut and Confu. Photo by Shawn McMillen Photography
Madden is a longtime attendee of the Washington International Horse Show, and on Saturday, she will be vying for her third win in the show's featured class, having previously won it on Innocence in 1999 and on Conquest II in 2002.
"The atmosphere here is fantastic," said Madden. "They try to put on an actual show in the ring; it's not a mundane horse show. It has its challenges being in the city, but at the same time, it's so special being in the city."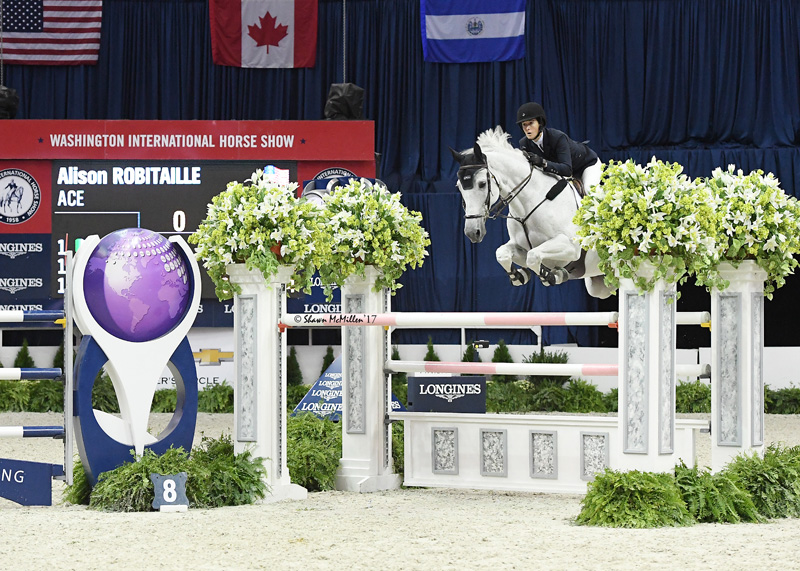 Beat "Dracula" Mändli Speeds to Accumulator Win
In his first time competing at the Washington International Horse Show, veteran show jumper Beat Mändli (SUI) won the $35,000 International Jumper Accumulator costume class, presented by Equestrian Sport Productions.
The crowd-favorite class was held during the show's always-popular Barn Night, supported by A Little Pet Vet, US Equestrian, BarnManager, The Equiery, The Clothes Horse, and United Metro Golf Carts.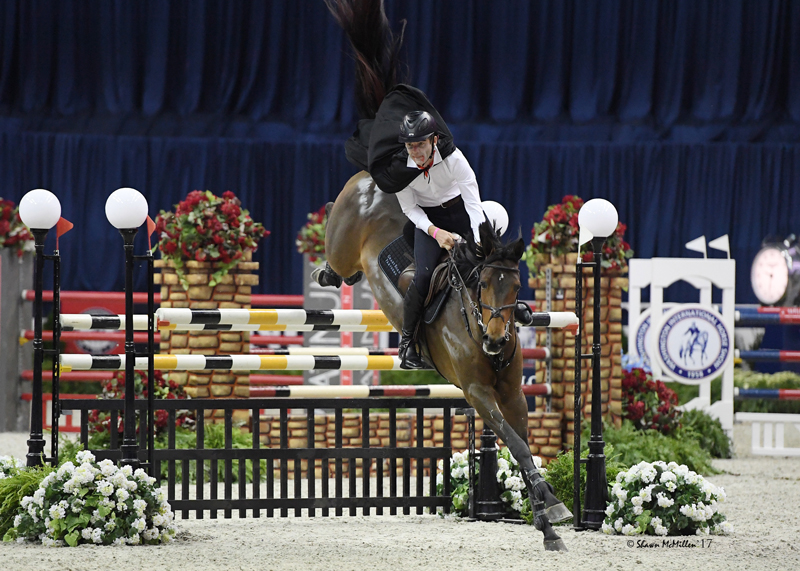 Mändli rode Dibatsja to the win by clearing every jump on course, including the final joker jump, to score 65 points in the fastest time of 43.09 seconds. Second place went to Mändli's student, Katherine Dinan. Dinan (USA) and Tarioso Manciais, owned by Grant Road Partners GmbH, also had 65 points in a slightly slower time of 43.43 seconds. Third place went to Amanda Derbyshire (GBR) and Lady Maria BH, owned by Gochman Sport Horse LLC, with 65 points and a time of 43.46 seconds.
Mändli, who is a FEI World Cup Jumping Final winner and Olympic team silver medalist, has ridden Dibatsja for four years and guided her progression to the five-star level, which she achieved in 2017.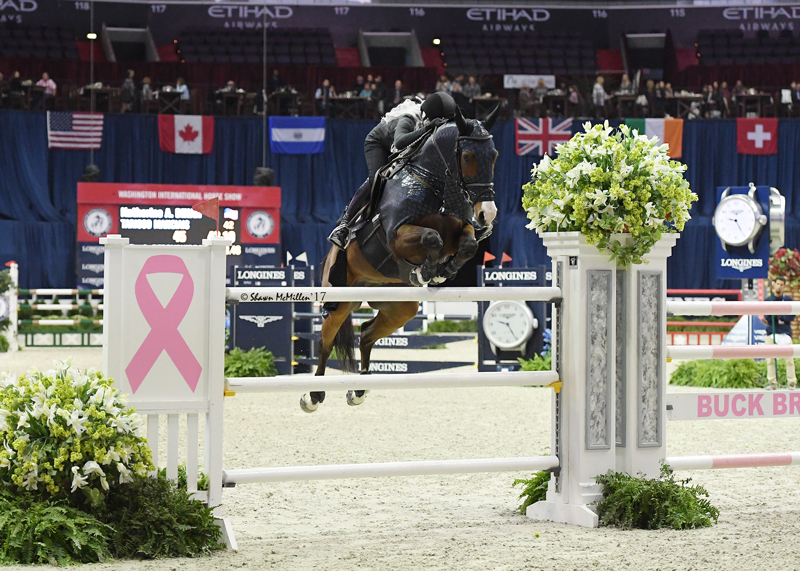 "She really tries to please in every class she goes in," he said. "I really hope for the future with her. I don't know where it goes, the championships or what, but she's doing everything we ask of her. She's so uncomplicated. There's never anything she has a problem with. It's actually very nice!"
"I'm not really a costume class rider," said Mändli, who has not shown in a costume class since 1992 in Gothenburg. "Elizabeth Miller, the owner of the horse, said she would bring me something. They dressed me up. Of course, it's nice to win it at the same time! [The costume class] is fun for the people and brings life in the show."

The winner of the Best Costume was Kama Godek (USA), dressed as a scarecrow. Money was raised for every clear round over the Clear for the Cure "pink ribbon" fence, the final jump in the accumulator class, and $6,000 will be donated to the Capital Breast Care Center, one of the partner charities of the Washington International Horse Show.
CSI4* $35,000 INTERNATIONAL JUMPER OPEN WELCOME RESULTS
1. BEEZIE MADDEN Cazenovia, NY BREITLING LS 0:0/30.78
2. ALISON ROBITAILLE UPPERVILLE, VA ACE 0:0/31.62
3. LAURA KRAUT ROYAL PALM BEACH, FL CONFU 0:0/31.92
4. AMANDA DERBYSHIRE WELLINGTON, FL LUIBANTA BH 0:0/32.15
5. PETER LUTZ WACCABUC, NY ROBIN DE PONTHUAL 0:0/33.28
6. DEVIN RYAN LONG VALLEY, NJ COOPER 0:4/31.52
7. SHANE SWEETNAM WELLINGTON, FL MAIN ROAD 0:4/35.78
8. DENIS LYNCH RMF BELLA BALOUBET 0:5/42.16
9. AARON VALE WILLISTON, FL FINOU 4 0:12/34.34
10. BRIANNE GOUTAL ROYAL PALM BEACH, FL VIVA COLOMBIA 1/71.35
11. CATHERINE TYREE CHICAGO, IL ENJOY LOUIS 1/72.25
12. PAULO SANTANA, FILHO WELLINGTON, FL TALOUBET 4/65.24

​$35,000 INTERNATIONAL JUMPER ACCUMULATOR RESULTS
1. BEAT MÄNDLI North Salem, NY DIBATSJA 65 43.09
2. KATHERINE DINAN Wellington, FL TARIOSO MANCIAIS 65 43.43
3. AMANDA DERBYSHIRE WELLINGTON, FL LADY MARIA BH 65 43.46
4. Andrew Ramsay Wellington, FL Cocq A Doodle 65 43.50
5. DEVIN RYAN LONG VALLEY, NJ EDDIE BLUE 65 43.62
6. ADRIENNE STERNLICHT GREENWICH, CT Pembroke 65 47.54
7. SHANE SWEETNAM WELLINGTON, FL COBOLT 48 46.04
8. LAURA KRAUT ROYAL PALM BEACH, FL WHITNEY 25 41.30
9. McLAIN WARD BREWSTER, NY HH CARLOS Z 25 41.73
10. CATHERINE TYREE CHICAGO, IL BOKAI 25 42.76
11. AARON VALE WILLISTON, FL ELUSIVE 25 46.96
12. HUNTER HOLLOWAY Topeka, KS CASSEVEL 21 48.00