WASHINGTON – October 25, 2017 – The 59th annual Washington International Horse Show (WIHS) continued on Wednesday, October 25, with the second day of competition featuring the $10,000 WIHS Children's and $10,000 WIHS Adult Jumper Championships, the awarding of the professional and amateur-owner hunter championships, and the $10,000 International Jumper speed class.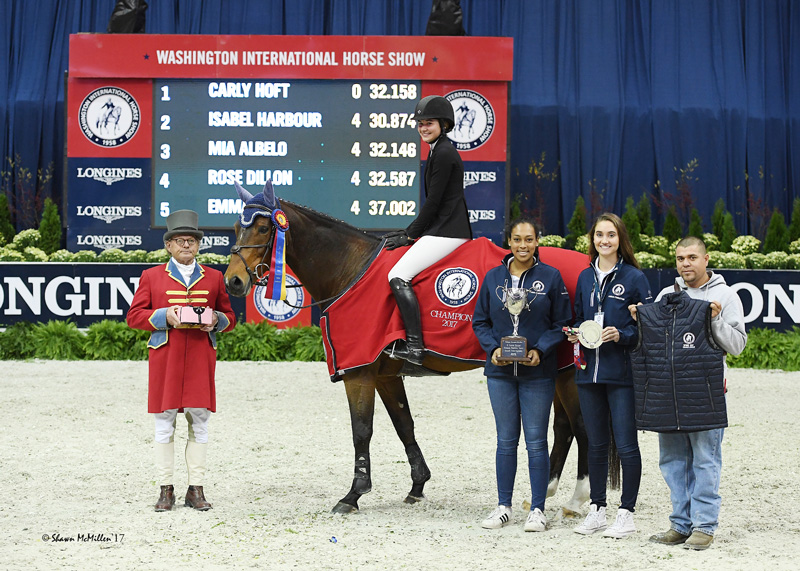 The first jumper victory of the 2017 WIHS went to 18-year-old Carly Hoft of Raleigh, NC, who rode Available Ohio to the win in the $10,000 WIHS Children's Jumper Championship. From a starting field of 25 entries, six advanced to the jump-off, and only Hoft and Available Ohio produced a double clear round, taking the win in a time of 32.158 seconds. Jumpers this week are competing over courses designed by Alan Wade of Ireland, who designed the 2017 Longines FEI World Cup™ Jumping Final.
Finishing in second were Isabel Harbour of Alpharetta, GA, and her mount Camera Ready, owned by Fit to Print Farm. Hoft was presented with the H. Fenwick Kollock Memorial Perpetual Trophy for her win.

"It's really awesome [to win here]," said Hoft, who trains with Don Stewart. "I've always wanted the red cooler and especially the cupcakes! I just think it's so cool to be here. The horses walking in the street and riding in this ring – it's just really cool and special."
Hoft has had Available Ohio for a year and a half and has come to count on him as her trusted partner.
"He is just so much fun," said Hoft, who has previously competed at WIHS in both the pony divisions and the WIHS Equitation Finals. "Every time in the ring I just go in and have fun and smile. I know he's always there for me. In the jump-off, he was really good. He was fast and careful, and he did everything I wanted him to do."
Hoft will also compete in Lindsay Maxwell Charitable Fund WIHS Equitation Finals on Saturday, October 28, before heading back to Auburn University where she is a freshman on the school's National Collegiate Equestrian Association (NCEA) team.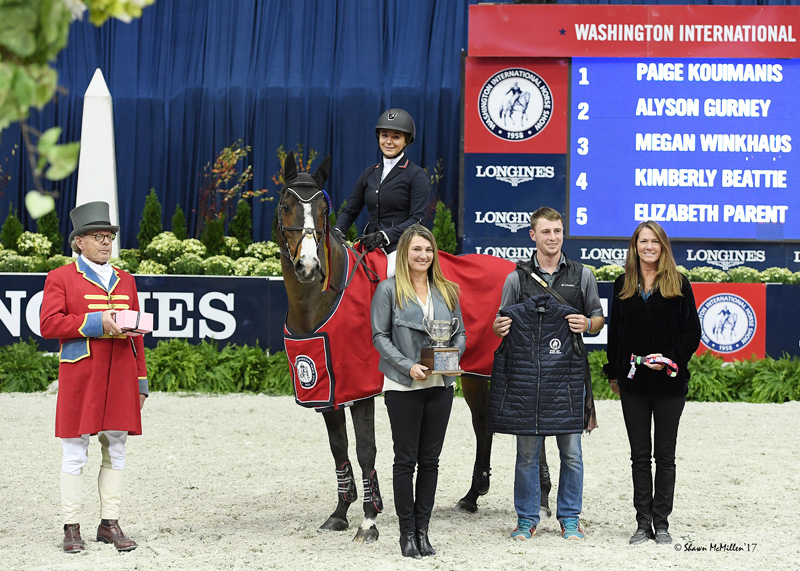 Paige Kouimanis (20) of Clarence, NY, and Lexus were victorious in the $10,000 WIHS Adult Jumper Championships. Out of a starting field of 26, they were the only clear round out of ten in the jump-off to win with a time of 35.876 seconds.
"He's been nothing but phenomenal," said Kouimanis of the 12-year-old Swedish Warmblood gelding. "I'm in college, so it's hard for me to ride him as often as I would like to, but I've made it work with indoors."
Kouimanis is currently attending Hobart & William Smith College, and this is her first time competing at WIHS. "I was second last weekend at Harrisburg, which motivated me to push Lex a little harder. I could feel going right into the in-gate that he felt really on his game. I missed almost a week of school to be here, and it feels so good to be able to come out with the win. It was well worth the week missed!"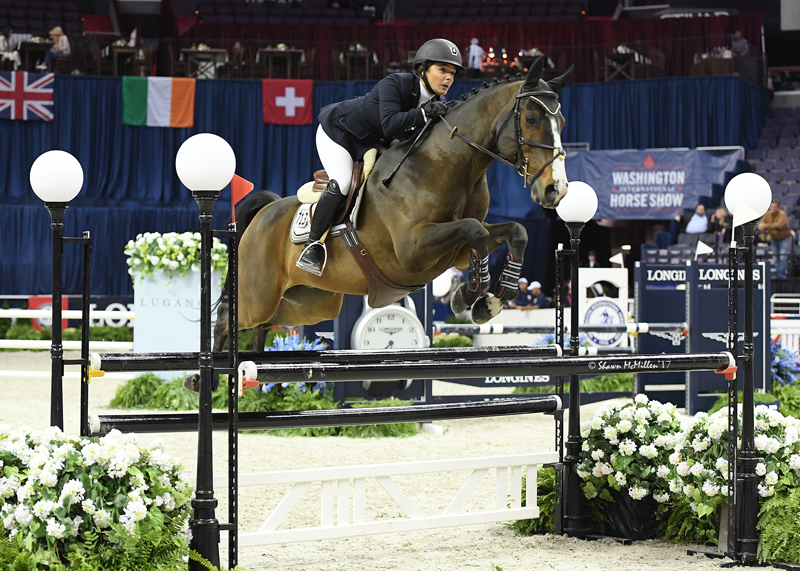 Along with her inaugural WIHS experience, this is Kouimanis's first time in Washington, D.C. She noted, "I love all the historical sites, the White House, the museums. I think it's amazing how they put the horse show on right in the city."
Scott Stewart Sweeps Top Professional Hunter Honors at WIHS
For the tenth time in his career, Scott Stewart, of Wellington, FL, was named the WIHS Leading Hunter Rider after winning both the Grand Green Hunter Championship with Wonderly and the Grand Hunter Championship with Private Life.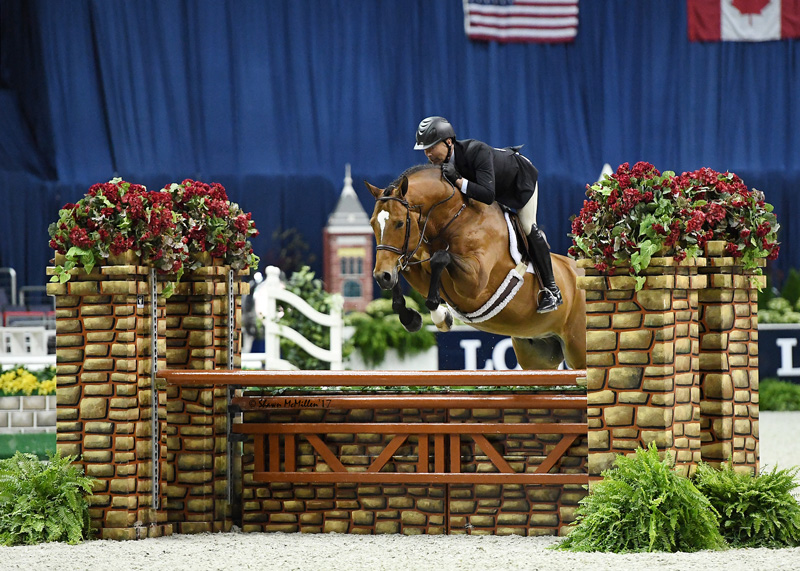 Stewart and Private Life, a six-year-old Dutch Warmblood gelding (by Verdi) owned by Dr. Betsee Parker, swept all three of the Green Conformation Hunter over fences classes to take the division championship and ultimately the Grand Hunter Championship. Stewart and Private Life were presented with the Rave Review Challenge Trophy, donated by Stoney Hill, for the championship victory.
"He's just amazing," said Stewart of Private Life. "He jumps unbelievably. He's not spooky. He's so easy, (that) it's almost hard. He doesn't pull on you; he doesn't do anything."
Stewart acquired Private Life from Morgan Ward two years ago after seeing great potential in the horse and being struck by both his personality and his jump.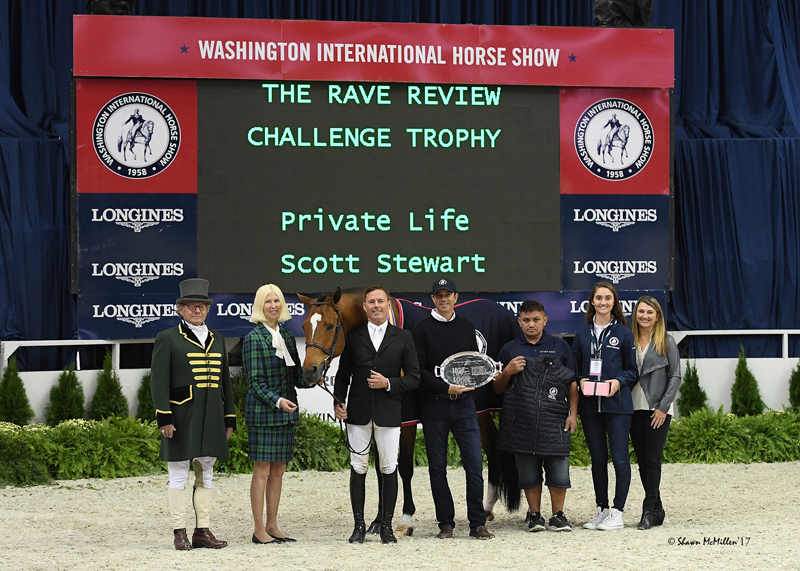 "He may not look it, but he's really scopey," said Stewart. "When we tried him, we jumped him over four feet, and it was easy for him. We brought him to a very strange ring outside, and he jumped everything, so his mind was great. I thought he was going to be an attractive horse and a conformation horse, but he was very immature at the time. All of a sudden last year he started to blossom and look like a beautiful conformation horse."
Stewart's second grand championship of the day came aboard Wonderly, an eight-year-old Brandenburger gelding (by Burberry) also owned by Parker. Stewart and Wonderly earned the Grand Green Hunter Championship after finishing first, second, and third in the Green Hunter 3'6" over fences classes and earning the Green Hunter 3'6" championship. For the Grand Green Hunter Championship, Stewart and Wonderly were presented with the Claire Lang Miller Challenge Trophy as the high point combination from all of the Green Hunter divisions.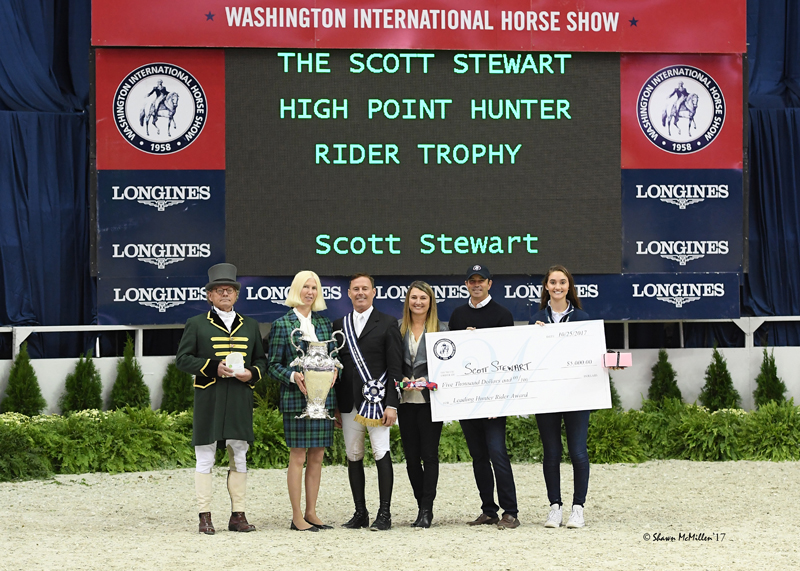 "[Wonderly] went great. He's laid back, which is nice. It used to be that he was a little bit too casual, but I think he's getting fitter," said Stewart. "All of my hunters look like they're fat, but they're actually pretty fit and muscled up. They go in the 'gym' every day, and they get ridden almost every day. He's pretty strong."
Finishing as the reserve champions behind Stewart in both the Green Conformation Hunters and the Green Hunter 3'6" were Leslie Steele of Calabasas, CA, and Top Shelf, owned by Milissa Summer.
Before concluding his time at WIHS, Stewart also earned two reserve championships, first in the High Performance Hunter division with Cameo, owned by Parker, and next in the High Performance Conformation Hunters with Lucador, also owned by Parker.
"I love being in the city here," said Stewart. "It's great to be here, and it's probably the closest to the [former National Horse Show at Madison Square Garden] because of the city atmosphere."
Earning the championship in the High Performance Hunters was In the Know, ridden by Samantha Schaefer of Westminster, MD, and owned by Madeline Schaefer. In the High Performance Conformation Hunters, Boss, ridden by John French of Paso Robles, CA, and owned by Laura Wasserman, took the top honors.
Lindsay Maxwell Named Leading Amateur-Owner Hunter 3'6" Rider
The Leading Amateur-Owner Hunter 3'6" Rider award and the Frank Counselman Memorial Perpetual Trophy for the Grand Amateur-Owner Hunter 3'6" Championship were presented to Lindsay Maxwell of Beverly Hills, CA, and her own Technicolor.
The pair came into the day without a ribbon in the first over fences class, but they rose to the occasion to win both of Wednesday's Amateur-Owner 35 & Under Hunter classes before also being named the division champions.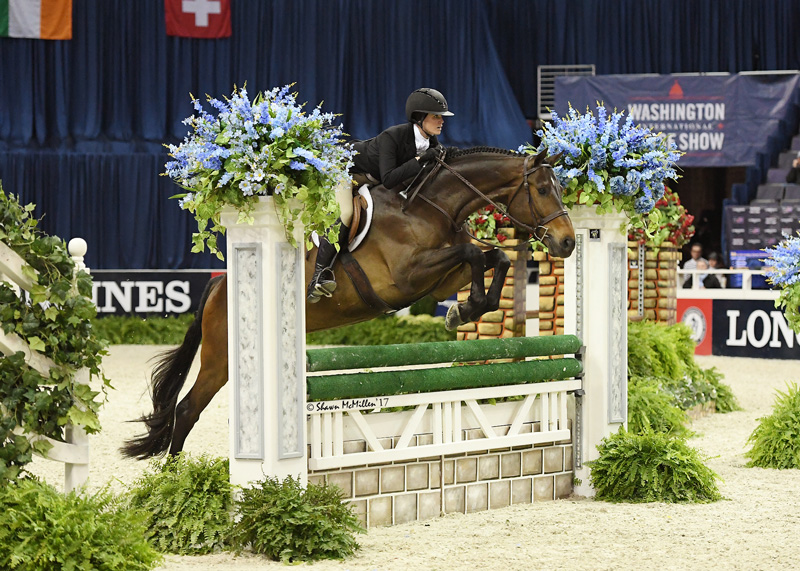 "He always lives up to it when it really counts," said Maxwell of Technicolor, a seven-year-old Oldenburg gelding she purchased two years ago. "He's a performer through-and-through. He loves to horse show; he doesn't love to practice. He's an incredible horse because he knows when it's a big stage and a big deal. When I was hacking my horses in here on Monday, I could tell right away when 'Nico' walked in that he was ready for this."
This year marks Maxwell's second time competing at WIHS, and this year, she's also joined in support of the horse show as the sponsor of the Lindsay Maxwell Charitable Fund WIHS Equitation Finals.
"This show is incredible. This was definitely one of my big goals this year because I think this is a really difficult show, so being champion and doing well here was a goal that I'm just thrilled that we were able to obtain," said Maxwell, whose non-profit organization launched the Lindsay Maxwell Charitable Fund WIHS Equitation Grant this year, allowing one rider to compete in the Lindsay Maxwell Charitable Fund WIHS Equitation Finals with all expenses paid. "We're really excited to be able to support the Finals. I think that equitation, and especially the equitation finals, are so crucial to juniors' careers and being able to give someone the opportunity to come here and do that is really special."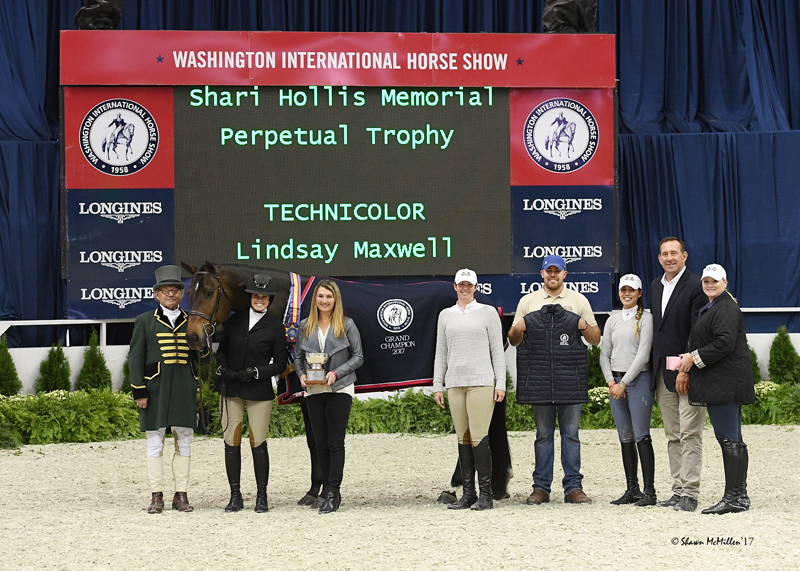 Finishing as the reserve champions of the Amateur-Owner 35 & Under Hunters were Nikki Diamantis of Tallahasee, FL, and her own Cascina.
The Amateur-Owner Over 35 Hunter Championship went to Emily Morin of McLean, VA, and her own Ace of Spades, while the reserve championship was presented to Kirsten Pollin of Washington, D.C. riding her own Incognito.
Virginia Fout and Carma Claim Amateur-Owner Hunter 3'3" Grand Championship
In the Amateur-Owner Hunter 3'3" divisions, the grand championship was awarded to Virginia Fout and her own Carma for the second consecutive year. Fout and the INFO? topped two over fences class and the under saddle to win the Amateur-Owner Over 35 Hunter 3'3" division championship and to take the grand championship.
"He's just amazing. I'm so lucky," said Fout of Carma. "I think he really loves this venue, obviously. I'm just so fortunate to have him and have a partnership with him."
For her grand championship win, Fout was presented with the inaugural Bucky Reynolds Memorial Award, sponsored by Ernie Oare and Reynolds's sister, Betty Oare.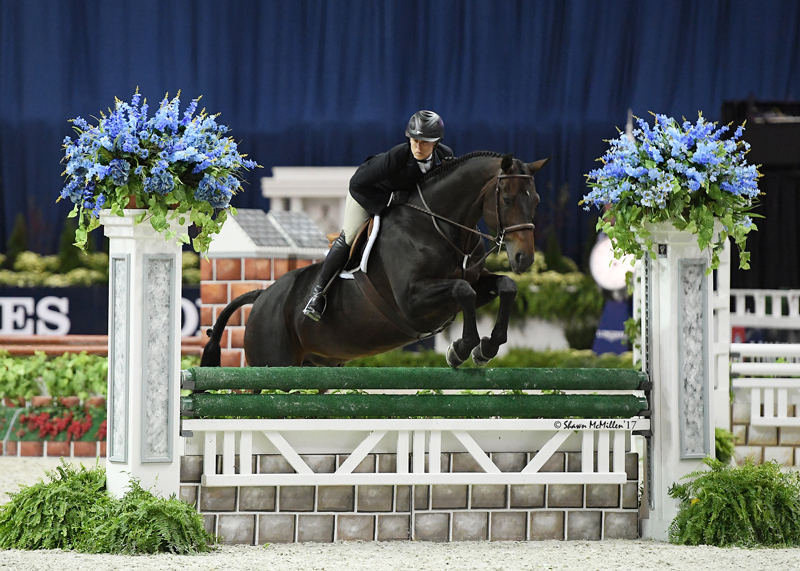 Winning the trophy in honor of Reynolds, who passed away earlier this year, made the grand championship honor extra special for Fout.
Betty and Ernie Oare were really good friends of my parents, who have since passed away, so I've known them my entire life," said Fout. "We've all known each other forever, and it was pretty neat to win that the first year that they [presented] it for Bucky. It meant something other than just a name. He was just really nice and always kind and lovely."
While Fout originally hails from nearby Middleburg, VA, she now resides in Los Angeles, CA, where she owns and operates the event management company, V Productions.
"I have a huge meeting tomorrow afternoon at 1 p.m. so I have to make it home tonight, otherwise that's going to be a problem," said Fout, who also has a six-year-old daughter, Logan, with husband Michael Whetstone. "I juggle between the two for sure. You just figure out how to make it work. You do conference calls from inside a quiet room and then you go back out and you get on your horse!"
The reserve championship in the Amateur-Owner Over 35 Hunter 3'3" division was awarded to Lynn Seithel of Charleston, SC, and Walk The Moon.
The Amateur-Owner 18-35 Hunter 3'3" championship went to Kaitlin Porath of Charlotte, NC, and her own Breaux, and the reserve championship went home to Tallahassee, FL, with Lindsey Phipps and her own Reign.
Hunter competition at the 2017 Washington International Horse Show continues on Thursday, October 26, with the start of the junior hunter divisions beginning at 7 a.m. In the evening, jumper competition takes center stage with the $5,000 High Junior/Amateur-Owner Jumper speed, sponsored by Kadley Holdings LLC, followed by the $35,000 International Jumper Accumulator Costume Class, sponsored by Equestrian Sport Productions. The evening session will begin at 6:30 p.m. and will also welcome local riders, trainers, families, and fans for Barn Night, supported by A Little Pet Vet, US Equestrian, BarnManager, The Equiery, The Clothes Horse, and United Metro Golf Carts.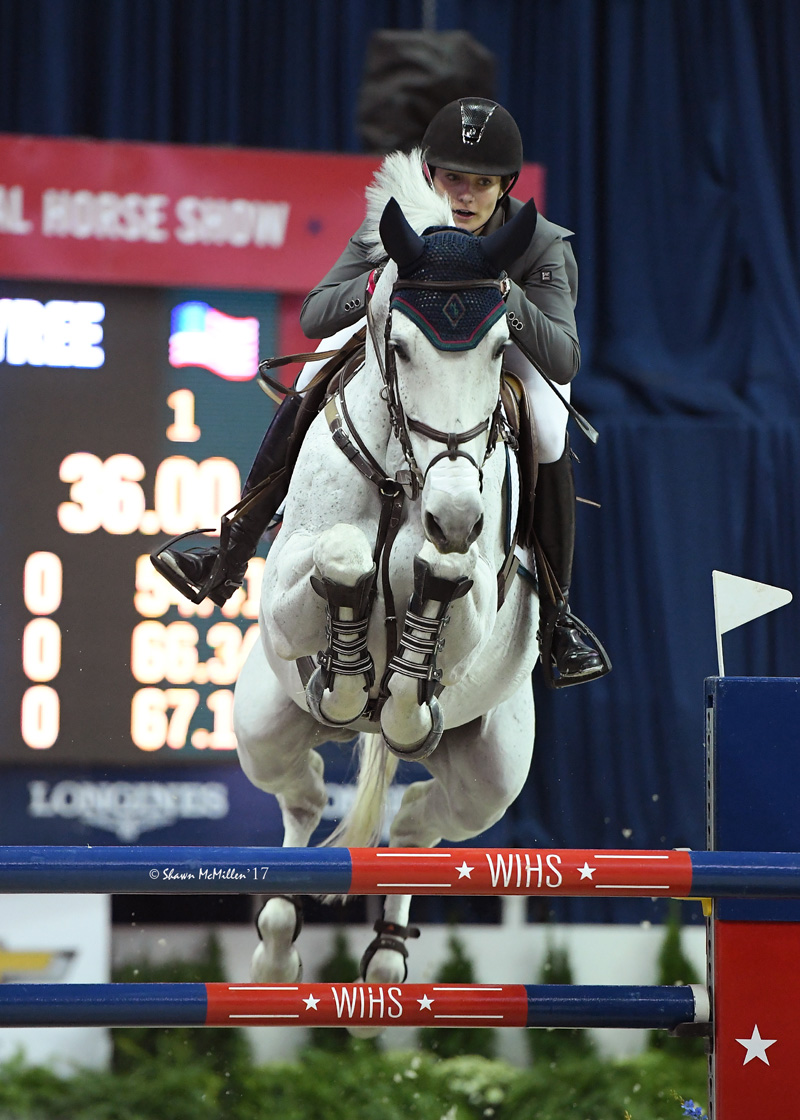 $10,000 WIHS CHILDREN'S JUMPER CHAMPIONSHIP RESULTS
1. CARLY HOFT RALEIGH, NC AVAILABLE OHIO 32.16 $2,250
2. ISABEL HARBOUR ALPHARETTA, GA CAMERA READY :4 30.87 $1,800
3. MIA ALBELO Coral Gables, Florida CASSANDRA DREAMS :4 32.15 $1,300
4. ROSE DILLON MILTON, GA BABA BOOEY WB :4 32.59 $800
5. EMMA PELL WINCHESTER, VA ARI 55 :4 37.00 $700
6. CAROLINE MICHELE DUGAS Birmingham, AL SKYFALL $650
7. Megan Jones Annapolis, MD MELISANDRE 4 57.60 $650
8. NATALIE SCHAFFER ST CHARLES, IL ROYAL DESCENT 8 52.00 $650
9. EMILY LEINS MCLEAN, VA QUILOA 8 53.93 $600
10. KATHLEEN FULL (BAUDENEAU)Scarsdale, NY CHERIE 8 54.59 $600
11. SELINA PETRONELLI CHURCHVILLE, MD WHISPER 8 56.19
12. GIGI MOYNIHAN BEDMINSTER, NJ GOLDEN DREAM 8 59.22
$10,000 WIHS CHILDREN'S ADULT CHAMPIONSHIP RESULTS
1. PAIGE KOUIMANIS clarence, ny LEXUS 35.88 $2,250
2. ALYSON GURNEY WASHINGTON, DC BLACK FRIDAY :4 39.40 $1,800
3. MEGAN WINKHAUS GREENWICH, CT SPEEDY CHICOLINA :4 39.42 $1,300
4. KIMBERLY BEATTIE MAHWAH, NJ CHARMANDER :4 40.11 $800
5. ELIZABETH PARENT LEESBURG, VA CORFU LS LA SILLA :4 40.36 $700
6. RENEE PORTNOY New York, NY CANDIDATE DU MARQUET :4 40.49 $650
7. HANNAH SHOWELL OCEAN CITY, MD NASHVILLE :4 42.24 $650
8. NICOLE RODRIGUEZ Miami, Florida EMMA :4 43.51 $650
9. SARAH GORDON STAMPFORD, CT BONITHA :4 43.82 $600
10. LINDSEY TOMEU WELLINGTON, FL BONAPART :8 38.99 $600
11. EMILY THROOP NEW YORK, New York HJ SOBERANO 3 64.53
12. PHOENIX COOKE Eastlake, OH SKYS BURNIN BLUE 4 53.76
$10,000 INTERNATIONAL JUMPER SPEED CLASS RESULTS
1. CATHERINE TYREE CHICAGO, IL BOKAI 52.89 $2,500
2. DENIS LYNCH , RMF BELLA BALOUBET 54.41 $2,000
3. GEORGINA BLOOMBERG NEW YORK, NY CALISTA 55.31 $1,500
4. Andrew Ramsay Wellington, FL CALIFORNIA 62 56.58 $1,000
5. SHANE SWEETNAM WELLINGTON, FL COBOLT 58.17 $700
6. CHRISTINE McCREA EAST WINDSOR, CT NEKTARINA B 60.08 $550
7. DEVIN RYAN LONG VALLEY, NJ EDDIE BLUE 63.72 $400
8. CATHERINE TYREE CHICAGO, IL ENJOY LOUIS 64.68 $300
9. ADRIENNE STERNLICHT GREENWICH, CT Pembroke 64.99 $300
10. AMANDA DERBYSHIRE WELLINGTON, FL LUIBANTA BH 66.34 $250
11. SHANE SWEETNAM WELLINGTON, FL MAIN ROAD 67.15 $250
12. ADRIENNE STERNLICHT GREENWICH, CT Cristalline 67.81 $250