"We are delighted to announce all-new footing for 2017," said Victoria Lowell, WIHS President. "It's been a long time coming due to Verizon Center's installation constraints but thanks to The Footing Firm, we've cracked it. The new footing is a sand, fiber, GGT blend, a newer spin on fiber-sand technology that creates a very stable surface but also absorbs the energy impact of the hoof.
"Our goal is to produce a tremendous experience for riders, trainers, owners, sponsors and spectators, and we're proud to add new footing this year to our mix of 26,000+ enthusiastic spectators, more than $500,000 in prize money, great dining, shopping, entertainment and hospitality all in the heart of our nation's capital city, Washington, D.C."

WIHS will again host a Longines FEI World CupTM Jumping North American League event and present the coveted President's Cup on Saturday night. The event is an important qualifier leading up to the Longines FEI World Cup™ Jumping Final in Paris in April.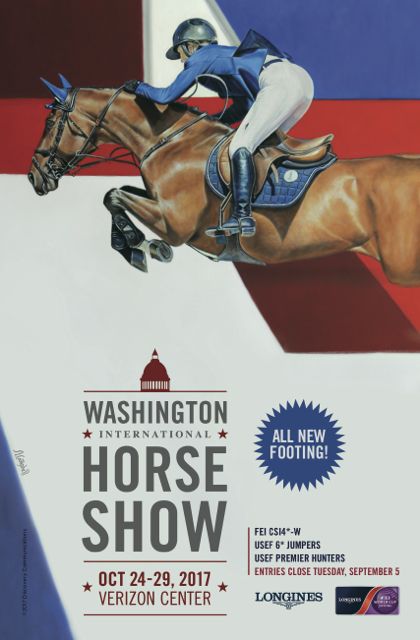 Cover painting features 2016 Longines FEI World CupTMJumping Washington winner Lauren Hough (USA) and Ohlala by WIHS Official
Artist Sharon Lynn Campbell.

WIHS Prize List Now Available Online
Prize Money & Cash Bonuses
More than $500,000 in prize money including special cash bonuses to the leading hunter and jumper riders:
$10,000 to the Leading International Jumper rider
$10,000 to the Leading International Jumper rider 25 years of age or younger
$5,000 to the Leading Professional Hunter rider
$20,000 Young Jumper Championship Incentive Program
Complimentary Exhibitor Hospitality
The J. Norick & Co. Exhibitors Lounge, 4am-4pm daily
After-parties at Oyamel, hosted by ThinkFood Group, and at the Irish Channel Pub
Hospitality & Sponsorship Options at All Levels
Tables in the Lugano and Capitol Clubs and the family-friendly PwC Club
WIHS offers sponsorship and hospitality packages including tables on our custom-built ringside dining terraces and in the sky box-level PwC Club, as well as tickets to evening social events. Sponsorships are tax-deductible less the value of benefits received and are available at all levels with a wide range of benefits and amenities. For details, call Lindsay Pologe, WIHS Sponsorship & Hospitality Manager, at 202-525-3679 or email lindsay@wihs.org.
Important Links
Reminder: Entries close Tuesday, September 5.
About the Washington International Horse Show, wihs.org
Established in 1958, the Washington International Horse Show is one of North America's most prestigious and entertaining equestrian events attracting more than 26,000 spectators annually to Washington, D.C., for Olympic-level competition plus community and charity events. More than 500 top horses and riders arrive from all over the globe to jump for more than a half a million dollars in prize money. Highlights include the $130,000 Longines FEI World Cup™ Jumping Washington for the President's Cup, presented by Events DC, the $25,000 Puissance high jump and $50,000 Speed Final on Military Night and Kids' Day, a free, fun and educational community event. WIHS, an official USEF Heritage Competition, is rated CSI4*-W by the Fédération Equestre Internationale, the world governing body for horse sports. The Washington International Horse Show Association, Ltd. is a 501(c)(3) nonprofit charitable organization based in Washington, D.C.