Jamal Brown named Honorary Youth Chair
Gaithersburg, MD, June 12, 2009 –The Washington International Horse Show (WIHS), a leading national equestrian event based in Washington, D.C. since 1958, is proud to announce Jamal Brown of Washington, D.C. as Honorary Youth Chair of the 2009 show.

"I have been a fan of WIHS since I was a little boy and am very excited and honored to be the 2009 youth chair. I am looking forward to working with the WIHS team and to reaching to the youth and community in Washington, D.C.," said Brown.

Brown, 16, will be a junior at the Barrie School in Silver Spring in the fall, where his academics and equestrian skill earned him a scholarship. Brown rides on the Barrie School Equestrian Team. He volunteers at Rock Creek Stables and has attended WIHS for eight years with his family. Brown also is very involved in the local community and has worked on the Mayors Summer Youth Program - Department of Parks and Recreation. "We are thrilled to welcome Jamal to the WIHS family. His pure love of horses and commitment to equestrian sport and this show in addition to his commitment to the community make him the perfect person to serve as the Honorary Youth Chair," said Juliet Reid, WIHS President.

In this role, Brown will reach out to the younger equestrian community and the local D.C. community and help WIHS to develop Kids Day, a free family-friendly day of activities. "Jamal will thrive in this role, with strong support from his parents, extended family and friends. We look forward to working with Jamal and for him to fully engage in the show and experience it from a rather unique perspective," said Tony Hitchcock, Chief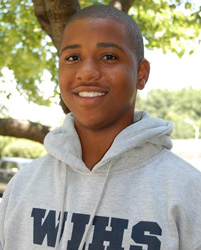 Executive, WIHS. "Jamal's voice will be a strong element in our plan to broaden support for our event by the entire DC community," he added.

The Washington International Horse Show Association, Ltd. is a 501(c) (3) non-profit organization. The 51st WIHS will be held Oct. 20-25, 2009, at Verizon Center in Washington, D.C.

About the Washington International Horse Show
An equestrian tradition since 1958, the Washington International Horse Show attracts horses and riders of all ages, including Olympic champions from all over the world, who travel to the nation's capital for thrilling jumping competition and a chance to compete for more than $400,000 in prize money and championship titles. About 500 horses participate in show jumping, hunters, equitation and dressage events during the six-day show. Special exhibitions, unique boutique shopping, community and charity events round out this family-friendly show. Since its debut, the Washington International Horse Show has been a popular Washington, D.C. fixture visited by presidents, first ladies, celebrities, business and military leaders, as well as countless horse enthusiasts of all ages.