Junior Committee & Youth Ambassador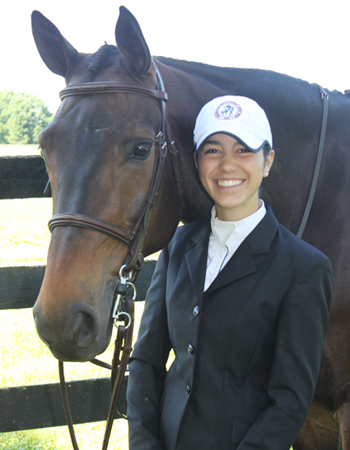 Mary Elizabeth Cordia with Welcome at Upperville
Colt & Horse Show, 2014. Photo Emily Ambach.
Welcome Mary Elizabeth Cordia!
Mary Elizabeth Cordia is the newly named 2014 WIHS youth ambassador! In her role, she will serve as the youth spokesperson for the show and chair the WIHS junior committee, a group of committed students from local public, charter and private schools, who together initiate and work on youth programs and community-focused educational events, such as Barn Night and Kids' Day. Read more about Mary Elizabeth!
Introduced in 2009, the program has grown each year and now is an integral part of the show. Members of the junior committee use their creativity and teamwork to develop projects during the summer and bring them to fruition for show week, when they also take on many other roles, such as assisting with Barn Night, giving tours and escorting media, Their hard wrok has been recognized in the media in Washington Life, Kids Post, John Kelly's Washington and several DC-area community newspapers.
Interested in joining? Members are invited to join the junior committee through an application process that begins in March. If you're interested in joining the 2015 junior committee or would like to learn more, please email info@wihs.org and we will contact you when the process begins.

2014 WIHS Junior Committee
Chair: Mary Elizabeth Cordia, youth ambassador. Members: Lily Barber, Terry Daniels, Miriam Dupree, Kiki Konopnicki, Elizabeth Kruse, Olivia McCarren, Caroline McGranahan, Rachel Michael, Alexis Mozeleski, Hanna Powers, Natalie Ralston, Gaby Ruff, Emily Schlosberg, Casey Schmitz, Jenny Searles, Chace Simmons, Mollie Thomas, Natalie Wachowiak and Jenna Zimmerman.

In Action in 2013! Photos: Alden Corrigan
Elizabeth Kruse and junior committee members prepare apples and carrots for the police horses at the Breakfast with the Mounted Police.

Junior committee members pose with the Racing Presidents, mascots for the Washington Nationals baseball team.

Elizabeth Kruse, 2012

youth ambassador,

had an opportunity to meet top riders Katie Dinan (left) and Catherine Passmore (right), who were competing at WIHS 2013.