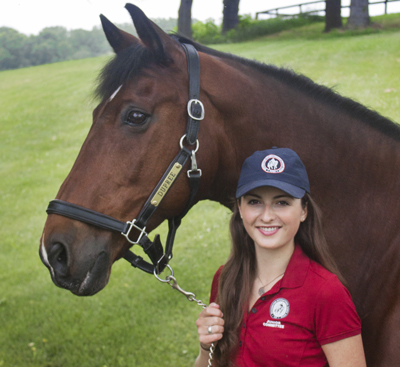 2015 WIHS Youth Ambassador Miriam Dupree
with her horse, Medrano. Photo Emily Ambach.
Welcome Miriam Dupree, 2015 WIHS Youth Ambassador! In her role, she will serve as the youth spokesperson for the show and chair the WIHS Junior Committee. Miriam,17, attends The Potomac School. She competes in hunter and jumper competition on the East Coast with her two horses, Medrano (shown here) and Eros.
Read more about Miriam!
WIHS Junior Committee: This great group of teens attends school in Maryland, Virginia and Washington, D.C. They spend time with WIHS staff over the summer at the office in Georgetown, and during show week at Verizon Center working on youth programs and community-focused educational events, like Barn Night and Kids' Day. They use their creativity and teamwork on a variety of projects from planning the scavenger hunt to shooting photos for social media. They also take on other roles, such as giving tours and escorting media. All are enthusiastic equestrians, who share their knowledge to help educate show visitors about horses and horse sport.
Interested in joining? Applications for 2016 will be available in March. For questions, email info@wihs.org.
Meet the 2015 WIHS Junior Committee!
Miriam Dupree, Youth Ambassador, 17, The Potomac School
Jocelyn "Jacey" Albaugh, 15, The Madeira School
Madison Allen, 14, Hayfield Secondary School
Haley Antonielli, 14, Bethesda Chevy Chase High School
Ana Bertozzi, 14, Stone Hill Middle School
Thea Bitar, 13, The Langley School
Charlotte Burch, 15, The Madeira School
Mary Elizabeth Cordia, 16, St. Stephen's and St. Agnes School
Adam Edgar, 15, Loudoun County High School
Sarah Holladay, 17, Connelly School of the Holy Child
Olivia McCarren, 14, Westland Middle School
Katie McCoy, 15, Yorktown High School
Rachel Michael, 16, The Madeira School
Holden Rafey, 15, Walter Johnson High School
Natalie Ralston, 17, Langley High School
Jenny Searles, 16, home schooled
Chace Simmons, 17, Colonial Forge High School
Jennifer Taylor, 14, Mount De Sales Academy
Mollie Thomas, 17, The Madeira School
Louise Whitner, 13, Hill School
Kendall Ann Youngblood, 14, Cooper Middle School
Jenna Zimmerman, 14, Kilmer Middle School
2014 Junior Committee Photo Gallery. Stay tuned for photos of the Junior Committee Class of 2015!
Photos: Alden Corrigan
| | | | |
| --- | --- | --- | --- |
| | | | |
| (L to R) Lily Barber, Natalie Ralston, Elizabeth Kruse, Hanna Powers, Mary Elizabeth Cordia, Mollie Thomas, Emma Suarez-Murias, WHS intern. | (L to R) Natalie Wachowiak, Rachel Michael, Olivia McCarren, Caroline McGranahan, Jenna Zimmerman. | Show jumpers Meagan Nusz and Lillie Keenan enjoy lunch with the WIHS Junior Cte during show week. | Flat Major catches a ride with Chace Simmons at HITS Culpeper! |