The Washington International Horse Show has enjoyed a close relationship with the United States military since the earliest days of the horse show when former U.S. Army horses and riders represented the United States in national and international competition. Thanks in part to the generous support of corporate and individual donors, we have been able to foster a strong and lasting connection between the equestrian community and the United States Armed Forces.

Military Night presented by The Boeing Company

Military Night presented by The Boeing Company is traditionally held on Friday of show week. It is an exciting evening of competition and special events in honor of the U.S. Military, including a Mounted Color Guard, a military-themed special exhibition, such as this year's U.S. Army Fife and Drum Platoon and the presentation of the Armed Forces Trophy to the winner of the International Jumper Puissance High Jump Class.
Klinger Perpetual Award for Honor & Service
Presented on Military Night, the Klinger Perpetual Award for Honor & Service presented by EQUUS Foundation, The Stephens Family, and American Horse Council, was created in 2013 to honor Klinger, a special horse who has touched the lives of many in his life of service with the 3rd U.S. Infantry Regiment (The Old Guard) Caisson Platoon. The award recognizes a horse, individual or organization that best demonstrates the values of honor and service as embodied by Klinger who will be on hand to assist in the presentation.. Learn more about the Klinger Award.

Jump for TAPS

WIHS is honored to partner with Tragedy Assistance Program for Survivors (TAPS), as the Official Military Charity since 2010. TAPS is the national organization providing compassionate care for the families of America's fallen military heroes and has offered support to more than 30,000 surviving family members of our fallen military since 1994. For more information, visit www.taps.org. As part of Military Night, riders in the $50,000 International Jumper Speed Final presented by the Man O' War Project in partnership with Columbia University Medical Center, will have the chance to "Jump for TAPS" as each time the TAPS jump is cleared a donation will be made to the organization courtesy of The Schaufeld Family.
Military Ticket Program
Presented by Fidelity Investments®


Link to WIHS Military Ticket Distribution Partners

Since its inception in 2010, the WIHS Military Ticket Program has successfully distributed more than 26,500 tickets to area families helping further our goal of giving back to the military community. WIHS would like to thank our 2017 Military Ticket Program supporters: by Fidelity Investments with support from Cherry Knoll Farm, Keshisian & Sons, United Bank, Eli Lilly and The Butchko Family. For more information on how your military organization can participate, please call 202-5253679.
Armed Forces Reception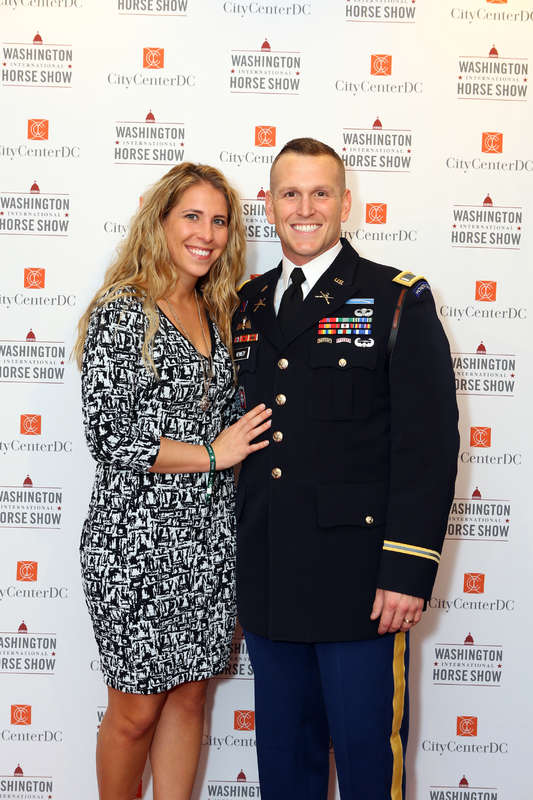 The Armed Forces Reception, presented by Caterpillar Inc., held on Military Night, benefits WIHS' Official Military Charity T.A.P.S. The event is held in the PwC Club at Capital One Arena where guests can watch the competition in the ring and enjoy dinner and drinks while supporting TAPS' mission of providing compassionate care for the families of America's fallen military heroes. Tickets are available for purchase.

Caisson Platoon

WIHS has enjoyed a special relationship with the U.S. Army's Caisson Platoon since 2009. Part of the "The Old Guard" from Fort Myer that serves Arlington National Cemetery, the Caisson Platoon uses a riding style that hasn't been used anywhere else since 1948. In addition to maintaining the ceremonial uniform of an Old Guard Soldier, the Caisson Soldiers must learn to use, clean, and maintain ceremonial tack and harness that is unique to their mission. Horse and rider drill, train, and live together until both are deemed qualified to accomplish their mission. WIHS continues to honor this noble service with the Klinger Perpetual Award for Honor and Service which is awarded to a horse, organization or person that best embodies the values as demonstrate by Klinger and his fellow four-legged soldiers.