Buck Breast Cancer!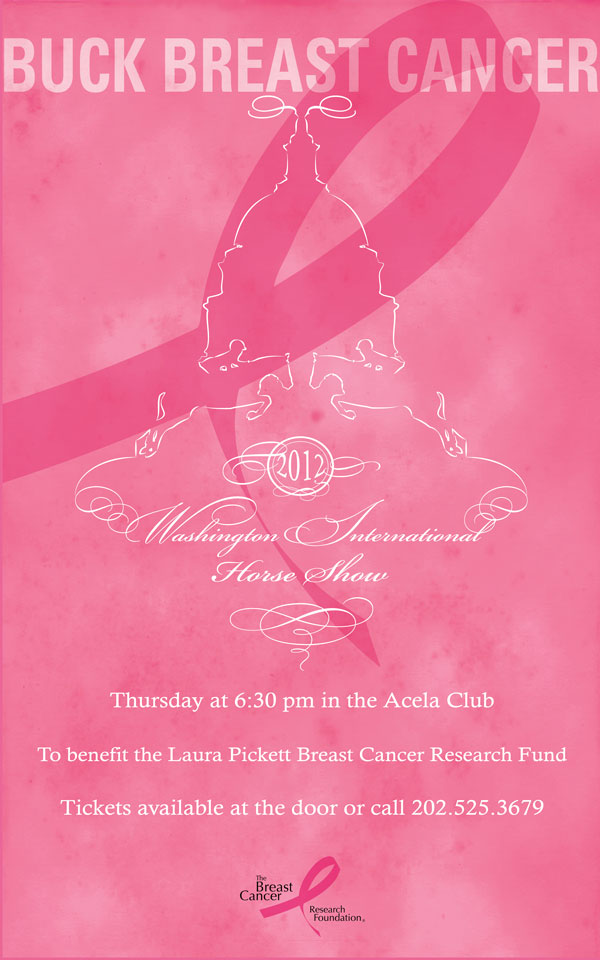 On Thursday, October 25 at 6:30 p.m. as we celebrate Barn Night with our young DC area fans in the stands, in the Acela Club, we will host a special reception in honor of a well loved local equestrian and trainer, Laura Pickett. Laura, who touched the lives of many people in the horse world, lost her battle with breast cancer earlier this year.

In memory of Laura's life, a hint of pink will color the night... working in partnership with the Breast Cancer Research Foundation the evening will have opportunities to celebrate Laura and enjoy the sport so dear to her heart. In addition guests will be able to make a contribution to support breast cancer research through the purchase of a ticket to the reception or purchasing a special piece of jewelry from Modern Styles for Life with proceeds to benefit the Laura Pickett Breast Cancer Research Fund.
Tickets are $150 with $50 going to the Breast Cancer Research Foundation. Includes dinner, drinks and an individual ticket. To purchase tickets visit Social Events or email joni@wihs.org.
As part of the celebration, the winner of the inaugural Laura Pickett Trophy for Excellence in Horsemanship will be presented. Nominations are now being accepted.
Learn more about the Laura Pickett Trophy and the nomination process at WIHS Regional Horse Show.