WASHINGTON, Oct. 23--The six-day, 60th anniversary Washington International Horse Show (WIHS) kicked off on Tuesday, October 23, at the Capital One Arena in the heart of Washington, D.C. Tuesday's opening day of competition featured the start of the professional and amateur hunter divisions, as well as year-end championships for child and adult hunter riders.
Earning wins in the $10,000 WIHS Children's Hunter Championship and the $10,000 WIHS Adult Hunter Championship were Lily Pollin riding Pura Vida and Allison Cederberg on Zero Tolerance, respectively.
Twenty-six entries contested the $10,000 WIHS Children's Hunter Championship, with the top 12 from an opening round returning in reverse order of their standings for a second round. At the conclusion of the first round, Pollin sat in fifth place aboard Pura Vida with a score of 82. However, a score of 86 over the second, Alan Lohman-designed course shot her to the top of the leaderboard with a 168 overall score.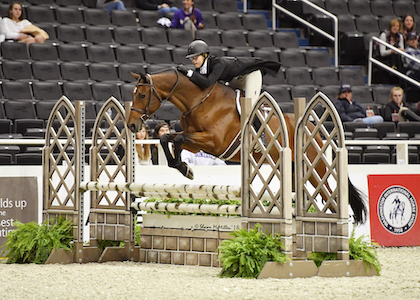 "My first course I went in, and I was really nervous," said Pollin, 15, of Bethesda, MD, who was presented with the H. Fenwick Kollock Memorial Perpetual Trophy, donated by Friends of Fen, for the win. "[Pura Vida] was perfect. He went in, and he took care of me. The second course, I went in just wanting to have fun because I was so happy we were in the top 12."
Finishing in second behind Pollin with an overall score of 163.5 was Jordan Bell of Friendship, MD, riding Chago. Third place with a score of 160 went to Bridget Scalia of McLean, VA, aboard Utopia de la Rouase.
"It means everything to win," said Pollin, who trains with Patty Foster and Mary Lisa Leffler at Rolling Acres Farm and whose mother, Kirsten Pollin, competes in the Amateur-Owner 3'6" Hunters. "I love [WIHS] because I've been coming here and watching my mom since I was really little. I think it's so cool to be able to ride in the city and at the Capital One Arena!"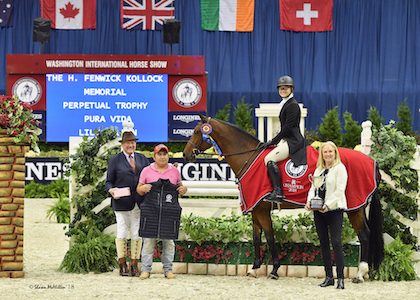 Pollin has been leasing Pura Vida, a nine-year-old Swedish Warmblood for nine years, and she also contested the Children's Hunter Championship with the gelding in 2017, but she did not fair quite as well in what was her WIHS debut.
"I fell off last year, so this was a big improvement!" said Pollin of her 'comeback' victory. "I was very nervous; I just pretended that I wasn't showing, walked around, and didn't learn the course until late. He did everything perfectly."
Allison Cederberg and Zero Tolerance Score Debut Victory at WIHS
When Allison Cederberg heard the final scores of the $10,000 WIHS Adult Hunter Championship, she knew she had won and threw her arms around the neck of her mount, Zero Tolerance. Cederberg, 22, hails from Fort Collins, CO, and earned a score of 168 to take the tri-color riding her own 14-year-old Dutch Warmblood gelding by Roven during their first-ever appearance at WIHS.
Cederberg was one of the 12 riders who qualified to return for a second round from an original starting field of 26. Coming back for the final course, she sat in first by a narrow margin, and she held on for the win, with Britta Lippert of Sea Girt, NJ, finishing a single point behind on a 167 score riding Indigo for owner Gianna Zanghi. For the win, Cederberg was presented with the Diane Wade Memorial Award.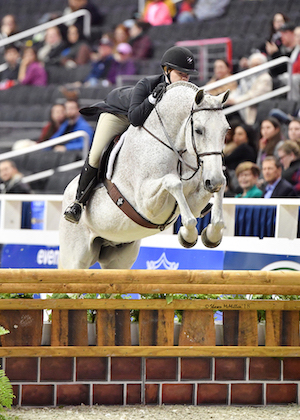 Addie Jabin of Columbia, MD, took third with a score of 160 in the irons of her own Axtrex, while Clare Karlovec of Cleveland, OH, finished fourth riding her own Milord du Valon to a score of 159. Lydia Davidson of Fairfax, VA, rounded out the top five with her own Park Avenue on a final tally of 155.
"To win here is amazing," said Cederberg, who trains with Ricci, Stephanie, and Michael Desiderio out of Tranquility Farm in Chester, NJ. "To be here is amazing, and Zero was incredible. He walked in [Capital One Arena] like he had been doing it his whole life. Everything came up really well, and he jumped amazing. That's all you can really ask for."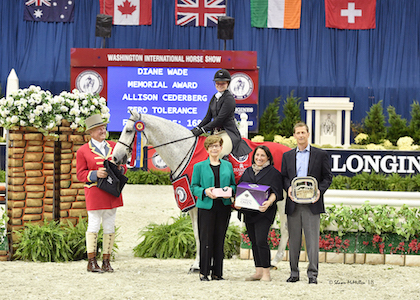 Zero Tolerance was imported by Cederberg six years ago, a deal that was sealed by the trade of her small pony.
"We found him from his breeder, Marilyn Schmidt, in Amsterdam and bought him off a video without even trying him," she said. "He's been an amazing horse ever since. We have grown a lot, and he has helped me reach all my goals.
"His breeder still contacts us and follows everything he does," continued Cederberg. "She even comes and visits him, so he definitely has a very loving family. Over the years, we have built confidence to trust each other and know that it's always going to be alright."
The 60th annual Washington International Horse Show continues on Wednesday, October 24, beginning at 7 a.m. with championships for the professional and amateur-owner hunter divisions, as well as the $10,000 WIHS Children's Jumper Championship and the $10,000 Adult Jumper Championship.
$10,000 WIHS Children's Hunter Championship Results
Rank Rider Horse Score
1 Lily Pollin Pura Vida 168
2 Jordan Bell Chago 163.5
3 Bridget Scalia Utopia de la Rouase 160
4 Shannon Maguire Kitsilano 153
5 Courtney Salkeld Lucky Penny 150.5
6 Gabrielle Morin Ace of Spades 146
7 Sienna Pilla Allura 132
8 Kathleen Matthews Downtown Brown 130.5
9 Libby Bishop Shimmer 127
10 Sydney Hamel O. Henry 126
11 Daisy Bishop Royal Ace 125
12 Mekenna Scott Charade 114
$10,000 WIHS Adult Hunter Championship Results
Rank Rider Horse Score
1 Allison Cederberg Zero Tolerance 168
2 Britta Lippert Indigo 167
3 Addie Jabin Axtrex 160
4 Clare Karlovec Milord du Valon 159
5. Lydia Davidson Park Avenue 155
6 Amy Meravi Zortago 153.5
7 Melissa Kirkpatrick Ultimatum 152
8 Laurie Barna. Fabrege 151
9 Lydia Mcclain. Iberia 147
10 Sydney Swarr Rock Star 142
11 Maria Caccamise San Pellegrino 140
12 Patti Schindler Pinch Hit 117