THE KLINGER PERPETUAL AWARD FOR HONOR & SERVICE
Presented by EQUUS Foundation



The Klinger Perpetual Award for Honor & Service recognizes a horse, individual or organization
that best demonstrates the values of honor and service as embodied by Klinger.
The Klinger Perpetual Award for Honor & Service was created in 2013 to honor Klinger, a special horse who has touched the lives of many in his life of service with the 3rd U.S. Infantry Regiment (The Old Guard) Caisson Platoon. Among his duties, Klinger has served as the official escort to the President of the United States, led the Presidential Inaugural Parade, and acted as a TAPS Ambassador bringing comfort to veterans and families of our fallen heroes. Klinger has been inducted into the Horse Stars Hall of Fame by EQUUS Foundation and USEF for his service.
Klinger has also been an important part of the Washington International Horse Show for many years – visiting with children on WIHS Kids' Day, joining the Breakfast with the Mounted Police, and participating in the Caisson Platoon Exhibition on WIHS Military Night.
The award recipient will be recognized during a presentation at center ring with Klinger and representatives of WIHS and EQUUS Foundation on Friday evening's performance during the annual WIHS Military Night. The recipient will receive a special prize and will have the opportunity to select an equine charity on the Equine Welfare Network of EQUUS Foundation to receive a $1,000 Grant from the EQUUS Foundation.
Meet the Maryland Horse Discovery Center Network, our 2016 winner!
Congratulations to the Maryland Horse Discovery Center Network, winner of the 2016 Klinger Award for
Honor and Service. Learn more about their programs here.

Under the leadership of the Maryland Horse Industry Board Chair, Jim Steele, the Horse Discovery Center Network
was established in 2015. "Like the horse Klinger, the goal is to showcase the best of the horse world, give the public
the opportunity to enjoy these wonderful animals and help our industry prosper and grow."
- MD Horse Industry Board Executive Director, Ross Peddicord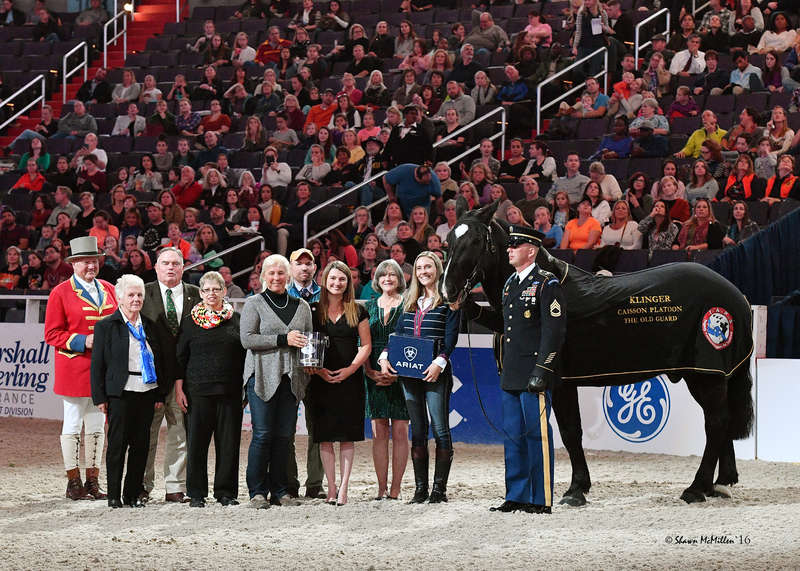 John E. Franzreb III, Beverly Raymond, Jim Steele, Kathleen Tabor, Esq., Karen Fulton, Ross Peddicord, Vicki Lowell,
Lynn Coakley, Alison Borris & Klinger with SFC Jeffery Tyree. Photo courtesy of Shawn McMillen Photography.
Nominations for the 2017 award will open in August.
View previous year Klinger Award Nominees.
To nominate a special horse, individual or organization for this award, please complete and return your nomination form to info@wihs.org or mail to:
Washington International Horse Show
Attention: Klinger Award
3299 K St NW, Suite 600
Washington, DC 20007
For more information, please contact 202-525-3679 or info@wihs.org