THE KLINGER PERPETUAL AWARD FOR HONOR & SERVICE
Presented by EQUUS Foundation, The Stephens Family, and American Horse Council




The Klinger Perpetual Award for Honor & Service recognizes a horse, individual or organization
that best demonstrates the values of honor and service as embodied by Klinger.
The Klinger Perpetual Award for Honor & Service was created in 2013 to honor Klinger, a special horse who has touched the lives of many in his life of service with the 3rd U.S. Infantry Regiment (The Old Guard) Caisson Platoon. Among his duties, Klinger has served as the official escort to the President of the United States, led the Presidential Inaugural Parade, and acted as a TAPS Ambassador bringing comfort to veterans and families of our fallen heroes. Klinger has been inducted into the Horse Stars Hall of Fame by EQUUS Foundation and USEF for his service.
Klinger has been an important part of the Washington International Horse Show for many years – visiting with children on WIHS Kids' Day, joining the Breakfast with the Mounted Police, and participating in the Caisson Platoon Exhibition on WIHS Military Night.
The award recipient will be recognized during a presentation at center ring with Klinger and representatives of WIHS and EQUUS Foundation on Friday evening during the annual WIHS Military Night. The recipient will receive a special prize and will have the opportunity to select an equine charity on the Equine Welfare Network of EQUUS Foundation to receive a $500 Grant from the EQUUS Foundation matched by a $500 donation from The Stephens Family. The recipient will also receive saddle pads from the American Horse Council.

Congratulations to 2017 winner, Admiral, from Bridle Paths! Learn more about their programs here.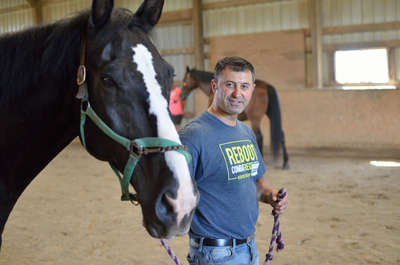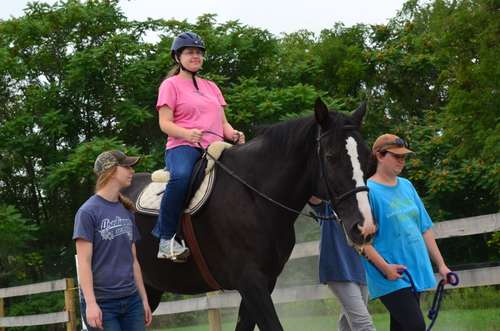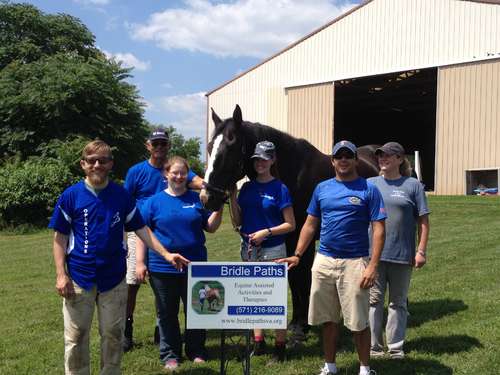 Admiral, the mainstay of equine-assisted activities and therapies programs at Bridle Paths in Leesburg, Va., serves with honor in all facets of the program. This gentle giant is a 12-year-old Percheron-Thoroughbred cross gelding standing 17.3-hands high. He carries therapeutic riding clients with care and dignity. He enables child and adult riders alike to reach new heights, both literally and figuratively.
Equine-assisted learning clients practice clear, consistent communication and quiet leadership in working with Admiral. He demonstrates sensitivity, kindness, and even humor, in challenging clients to transform struggles into triumphs, cultivating resilience along the way.
His strength, leadership, and benevolence in the herd are powerful examples for each person with whom he works. Admiral helps clients whose trust and boundaries have been destroyed by trauma to rebuild relationships based on respect, acceptance, and understanding.
"Perhaps nowhere does Admiral shine more than in his work with veterans, service members, and their families," said Kathleen Fallon, President, Bridle Path. "In both mounted and unmounted work, he inspires those who serve to connect with honesty and authenticity, and to lead with clarity, consistency and integrity. Through his work with the Bridle Paths program, Admiral builds relationships in which clients can be genuine and sincere, think clearly about their challenges, and achieve growth, learning, and healing."
Previous Winners
2016: Maryland Horse Discovery Center Network
2015: Andy, Loudoun County Therapeutic Riding Center
2014: Lelac Almagor (& the KIPP DC Riding Team)
2013: Klinger, himself!
Nominations for the 2018 award open in Summer 2018!
View previous year Klinger Award Nominees.
To nominate a special horse, individual or organization for this award, please complete and return your nomination form to info@wihs.org or mail to:
Washington International Horse Show
Attention: Klinger Award
3299 K St NW, Suite 600
Washington, DC 20007
For more information, please contact 202-525-3679 or info@wihs.org.