Jobs & Internships at WIHS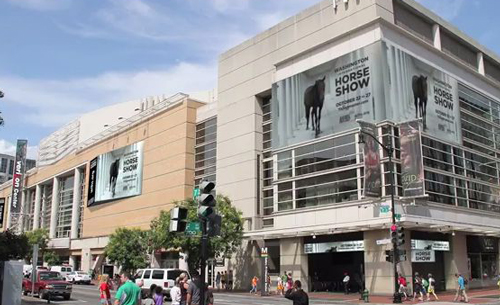 Available Positions
---
Special Events Coordinator
The Washington International Horse Show Association, a 501(c)(3) non-profit organization, seeks an experienced Special Events Coordinator. This is an excellent opportunity to join a growing team at one of the world's most recognized and prestigious equestrian events. Full-time salaried position based in Washington, DC to begin immediately. Detailed job description below.
Now in its 59th year, the Washington International Horse Show attracts more than 26,000 spectators to Verizon Center in downtown DC each October. The event features Olympic-level competition along with community and charity events. More than 500 top horses and riders come from across the globe to jump for more than $500,000 in prize money and bonuses. Highlights include the $130,000 Longines FEI World Cup™ Jumping Washington for the coveted President's Cup, the exhilarating $25,000 Puissance high jump competition, the $50,000 International Jumper Speed Final, the WIHS Equitation Finals, Barn Night, Military Night and Kids' Day, a free, educational, street fair-style community event.
This role will report to the Event Director and is responsible for the execution of all community and charity partnerships and special events as well as to support the activities of the Event Director. The ideal candidate is organized, a self-starter and skilled in event management. Key responsibilities include: management of all special events, charity partnerships, and community relations projects and expand the strategy on new community partnerships in the D.C. area.
To apply, send comprehensive cover letter, resume, and references to jobs@wihs.org, or to Washington International Horse Show, Attn: Ally Leff, 3299 K Street NW, Suite 600, Washington, DC 20007.
Position Summary:
Reporting to the Event Director, the Special Events Coordinator will be responsible for planning and executing all aspects of several high-profile events and logistical projects including but not limited to Barn Night, Military Night, Kids' Day, Mounted Police Breakfast, and the Young Nelson Society. This position will also manage the activities of the Junior Committee and coordinate logistics for evening exhibitions, national anthem singers, and Mounted Color Guard. This position will also support the WIHS operations function, including providing support to the Event Director on various projects as well as assisting with critical marketing, communications and sponsorship projects as assigned.
Responsibilities:
Manage development and execution of Barn Night, Kids' Day, Mounted Police Breakfast, and other WIHS special events including outreach, contract coordination, contest management and on-site logistics and timeline for each event
Coordinate development and execution of the evening exhibitions at PGEC and Verizon Center
Coordinate the Klinger Award and Laura Pickett Award nomination, selection process, and award ceremony on site
Coordinate the logistics of all special exhibitor events and exhibitions at the WIHS Regional Horse Show & Zone 3 Championship at PGEC
Lead the WIHS Junior Committee and Youth Ambassador's monthly meetings, team development activities, press opportunities and activities on-site.
Manage all events and membership activities for the WIHS Young Nelson Society
Coordinate all charity partnerships including TAPS (the Tragedy Assistance Program for Survivors), Capital Breast Care Center, and USET Foundation (United States Equestrian Team Foundation). Assist the Sponsorship & Hospitality Manager on charity partner activation in all PwC Club parties
Expand the reach and impact of WIHS community relations programs including, but not limited to, military partnerships, international ambassadors, government leaders, and other local cultural institutions
Develop and execute the Military Ticket Program and the First Responders Ticket Program
Provide support to Sponsorship & Hospitality Manager on advertising sales for the prize lists and program book
Provide special project support to Event Director and other staff members as assigned including working on critical marketing, communications and sponsorship initiatives in association with community relations projects
Requirements:

Bachelor's degree required; 2-5 years event production and marketing experience and knowledge of the local D.C. community
Equestrian experience not as critical as proven skills, strong interest and related experience in event management and community relations
Strong interpersonal, verbal and written skills
Excellent organizational, time management and project management skills
Experience performing support duties requiring accuracy, attention to detail and coordination of information
Self-motivated, highly responsible, with strong work ethic and demonstrated ability to work under pressure, meet tight deadlines within budget and work on multiple projects simultaneously
Must enjoy working in a collaborative environment, possess a naturally positive, calm and professional attitude and be willing to take on additional responsibilities as necessary
Discretion and good judgment when handling projects and information of a sensitive nature
Absolute proficiency in Microsoft Word, Excel, and PowerPoint

Internships Opportunities: Sponsorship, Marketing and Events
Are you a college student interested in event management and production, marketing and communications or sponsorship development? Are you able to thrive in a fast-paced office environment? Do you love following the top level of equestrian sport?
Apply for the opportunity to intern with the Washington International Horse Show and learn what goes into producing the country's leading metropolitan indoor equestrian event. WIHS interns gain valuable professional experience and learn about all aspects of our business, including event logistics, operations, sponsorship, hospitality, marketing and communications, while earning credit towards a college degree.
WIHS accepts applications for part-time, unpaid internships at our Washington, DC office throughout the calendar year. Applications are considered according to the following schedule:
December 15: Application deadline for Spring Semester Internships (January-May)
February 15: Application deadline for Summer Semester Internships (May-August)
July 15: Application deadline for Fall Semester Internships (August-December)
The right candidates are outgoing, motivated and detail-oriented with strong writing, project management and organizational skills, an interest in learning about our business, and a willingness to handle administrative and clerical duties. Ideal candidates must work well under pressure and possess excellent communications and customer service skills, the ability to multi-task, proficiency with standard office and graphic design software and a strong work ethic. A solid understanding of the hunter/jumper world is also important.
Sponsorship & Hospitality Internship
The Sponsorship & Hospitality Intern will assist in all areas of sponsorship development, sales and fulfillment, including prospecting, creating presentations/proposals, tracking amenities and hospitality benefits. The intern will also play a key role during the event assisting with VIP hospitality activities and providing client services to our sponsors, partners and supporters.
Marketing & Communications Internship
The Marketing & Communications Intern will assist in all areas of marketing, public relations and community outreach. He or she will help prepare e-blasts, press releases, social media posts, website content and printed publications. The intern will also help maintain accurate records on marketing partnerships, press coverage and clippings, contracts and mailing lists. Familiarity with Adobe Photoshop, InDesign and Illustrator are a plus. Photography skills are a plus.
Events & Operations Internship
The Events & Operations Intern will assist in the planning, execution and coordination of several prestigious events and logistical projects including Barn Night, Kids' Day, the Silent Auction, Boutique Shopping Vendors and the WIHS Souvenir Store. The intern will also assist in coordinating the WIHS Junior Committee, show week volunteers and evening exhibitions, as well as provide support on operational, administrative and show management projects.
Requirements – candidates must:
Have a minimum 3.0 cumulative GPA
Be able to commit to at least one semester and 15-20 hours per week
Be enrolled in undergraduate or graduate school or recently graduated
Ideal candidates are able to commit through the selected semester, however, all candidates will be considered.
How to Apply
To apply, send your resume and cover letter, including a thoughtful explanation of why you believe you would be a strong addition to the WIHS team, to info@wihs.org with the subject line: Internship. Please indicate in your personal cover letter which internship you are best suited for, why and during which semesters you are available to commit to an internship.
(Updated 6/22/17)