Fast Facts
57th Annual Washington International Horse Show
October 20-25, 2015 (Tuesday-Sunday)
Verizon Center, Washington, DC
The Show
Horse-crazy or not, if you like championship sport and fast-paced entertainment and fun, this is the event for you. An equestrian tradition since 1958, the Washington International Horse Show (WIHS) is the country's leading metropolitan indoor horse show. Each October more than 500 of the top national and international horses and riders, including Olympic veterans, come together in Washington, DC, to compete in six days of thrilling competition.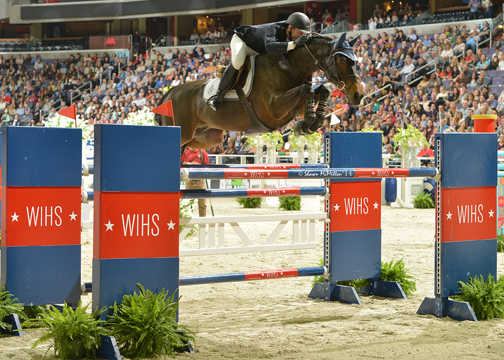 McLain Ward and HH Carlos Z, winners of the
2014 $125,000 President's Cup Grand Prix
Shawn McMillen Photography
Highlights include the $125,000 President's Cup Grand Prix, presented by Events DC (a World Cup qualifier), the Puissance high-jump competition presented by The Boeing Company, and the WIHS Equitation Finals featuring the country's top junior riders. Kids' Day, Barn Night, the WIHS Shetland Pony Steeplechase Championship Series, presented by Charles Owen, entertaining exhibitions, community activities, a silent auction and fabulous shopping in more than 50 specialty boutiques round out this exciting week.

Since its debut, the WIHS has been a Washington institution attended by presidents, first ladies, celebrities, military and business leaders, as well as countless horse enthusiasts of all ages.
Washington International Horse Show Association, Ltd. is a 501(c)(3) nonprofit charitable organization headquartered in Washington, DC. WIHS Ratings: FEI CSI4*-W, USEF Premier Hunter, USEF 5* Jumper
Tickets
WIHS tickets go on sale August 15 and are available through Ticketmaster.com or by calling 1-800-745-3000. Tickets also may be purchased in person at the Verizon Center Box Office. For information about Verizon Center accessible seating and services, call 202-661-5061 or 202-661-5065 (TTY). Groups: Verizon Center Group Sales Department,
202-661-5061, can assist you with ticket discounts, special seating arrangements and personalized service. The minimum group size is 10.
Venue
Verizon Center
601 F Street, NW (corner of 7th and F Streets, NW)
Washington, DC 20004

Verizon Center, a state-of-the-art professional sports and event facility, has been home to the Washington International since 2000.
Social Media
Follow WIHS on social media for photos, video and news about the extrordinary horses and riders competing at the show, plus historical information, contests and international equestrian news.
Hospitality
Enjoy fine dining while you watch world class equestrian competition in one of the greatest cities in the world. Ringside dining is available on two specially built platforms overlooking the arena and in the sky-box level Acela Club. Both options offer excellent food and beverage and wonderful views of the action in the ring. For more information about WIHS dining packages, contact Nicky Meyer at Nicky@wihs.org or 202.525.3679
Getting To the Show
Take Metrorail or Metrobus to the "Gallery Place-Chinatown" stop for an easy trip to the show. The Metro station is located below Verizon Center. Directions to Verizon Center.
Special Historic Moments
Over the years, notable guests included Alice Roosevelt Longworth, President Dwight D. Eisenhower, President John F. Kennedy, President Gerald R. Ford, General William Westmoreland, Christopher Reeve, John Cleese, Bruce Springsteen, William Shatner, Zsa Zsa Gabor and Arthur Godfrey and many more.
Show memories abound, including in 1970, a carriage marathon with horse-drawn vehicles parading to the White House to give Mrs. Nixon a carriage ride around the South Lawn of the Executive Mansion.
The standing North American indoor Puissance (high jump) record of 7 feet 7 1/2 inches was set at Washington in 1983 by Anthony D'Ambrosio and Sweet N' Low.
Leading horsemen and horsewomen inducted into the WIHS Hall of Fame since it was established in 1997: George H. Morris (1997), William C. Steinkraus (1998), Mrs. Jane Dillon (1999), Kenneth and Sallie Wheeler (2000), Austin H. Kiplinger (2001), H. Fenwick Kollock (2002), Sheila C. Johnson (2007), Miss Mignon C. Smith (2008), Betty Oare (2009) and Hermen Greenberg (2009).
WIHS is a USEF Heritage Competition